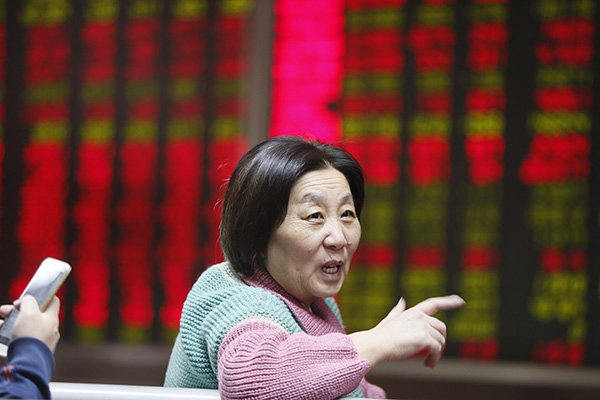 An investor at a brokerage in Beijing on Dec 7, 2015. Experts said the A-share market will be more liquidity-driven next year as policymakers in Beijing will launch more measures to stimulate the economy. [Cao Boyuan/China Daily]
Weak growth momentum to weigh heavily on sentiment, say experts
Bourses will continue to witness frequent ups and downs next year as the weak growth momentum will weigh heavily on overall market sentiment, analysts said on Monday.
Gao Ting, chief China strategist at UBS Securities Co, said the A-share market will be more liquidity-driven next year as policymakers in Beijing will launch more measures to stimulate the economy.
However, he warned that there could be some risks to liquidity like heightened expectations of yuan depreciation and rising credit defaults by companies.
"Based on past experiences, the market does not perform well when there are strong expectations for a weaker yuan," Gao told a news conference in Beijing.
"Rising debt defaults by companies will hurt the asset quality of banks and reduce investors' risk appetite," he said.
UBS Securities has forecast a 1 percent profit decline for listed companies in the A-share market next year, compared with the estimate of 4 percent growth earlier this year.
The Swiss investment bank also expects monetary authorities to cut the benchmark interest rates frequently and also reduce the amount of cash banks need to set aside as reserves by 400 basis points.
"Corporate revenue will be under pressure due to weakened demand and the deflationary pressure next year," Gao said, noting that he held a neutral view on the Chinese stock market with the CSI 300 Index being traded flat around 3,700 points by the end of next year.
But Gao said that sectors such as consumption, healthcare and information technology will continue to outperform the rest of the market next year.
On Monday, the benchmark Shanghai Composite Index rose 0.3 percent to 3,536.93 points, mainly led by a rally in healthcare, technology and consumer companies. The startup index ChiNext in Shenzhen rose 1.71 percent to close at 2,738.15 points.
Top policymakers in Beijing have emphasized on reforms for the supply-side economy, in a bid to unwind excess industrial capacity and boost corporate efficiency and competitiveness.
China is set to release trade data for November on Tuesday. Exports are tipped to fall 5 percent from a year earlier, according to the median estimate of a Bloomberg survey.
"The market is betting on the new-economy stocks and believes that these companies have pretty good growth potential amid China's economic transition," said Wu Kan, a fund manager at JK Life Insurance Co in Shanghai.