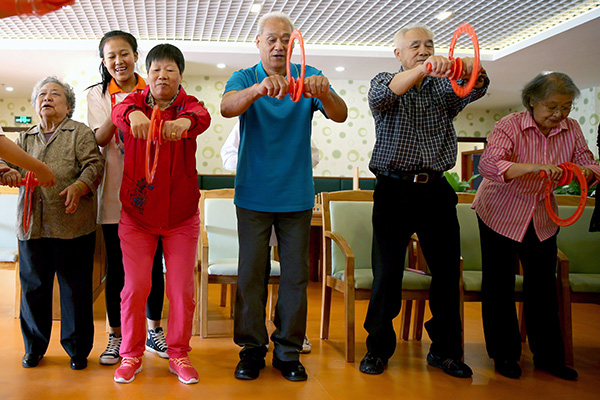 Senior citizens take exercises at a care home in Beijing. The number of beds at such institutions is far from sufficient in the capital. [Jiang Dong/China Daily]
Qian Liqun, 76, a famous scholar of literature at Peking University, shocked many of his contemporaries after he sold his apartment in Beijing and moved to a private home for the elderly in the suburbs so he could live quietely and spend more time writing.
Some marvel at the fact that Qian and his wife could afford to pay 20,000 yuan ($3,120) a month for a room at the high-end home. Even more are prompted to ponder what to do when their parents or they retire.
In China, looking after aged parents is always seen as a necessary virtue. In fact, the Law on the Protection of the Rights of the Elderly places the responsibility squarely on the shoulders of the younger generation.
Most of the people in my generation have just one child. With age advancing upon us, we would have to think how our children can balance the inverted family pyramid. The inverted pyramid here refers to a family which comprises of four parents (often with grandparents), a couple and a child (now, probably two), with the relaxation of the one-child policy.
Though most may have no qualms about looking after their parents, their filial duty may sometimes have to take second place to family responsibilities. Senior care homes may be the best bet when we grow older.
Very often, people are stumped for choices between government-run and private facilities. While there are limited beds available in government-run senior's homes, many of the private care homes are plagued by low occupancy rates due to high costs and sometimes unsatisfactory facilities.
In Beijing, there are more than 80,000 beds at senior care homes, with about 50,000 at private ones. At the end of 2014, the capital city had 3.22 million elderly people, aged 60 and above, accounting for 14.9 percent of its 21.5 million population, according to the city's statistics bureau.
Bed availability at senior care homes per 1,000 elderly people in the capital is about 30. Considering the growing elderly population, this number of beds is far from sufficient, though the city plans to increase it to 40 per 1,000 elderly people by 2020.
With such strong demand, one would have expected most of the private senior care homes to be flush with cash. But the reality is a different story.
According to data provided by the Ministry of Civil Affairs, only 51 percent of the privately run elderly homes in China could break even, while nearly 40 percent are deep in the red. The scenario in Beijing is no different.
Low occupancy rates, high labor and other costs, unfavorable locations and inadequate government support have been the main reasons why most of them are bleeding. In Beijing, although the local governments offer some allowances according to the number of beds they provide, they still find it tough due to rising costs.
Most of them are not charitable institutions, but actual businesses that need to make a profit. If the present situation continues, it would not be too long before some may exit the business. That, in turn, could create a ripple effect across the entire sector.
There are already enough indications that the government is abreast of the issue after it said that the elderly care sector would be opened up to further investment during the 13th Five-Year Plan (2016-20) and indicated that it was not averse to purchasing services from them or introducing public-private partnerships in the sector.
Business logic aside, what me and my generation want the most is affordability and dignity for their loved ones. But for that to happen, it is equally important to ensure that private senior care homes could make a profit. Only when such institutions are kept afloat, can the elderly settle in a home away from home.