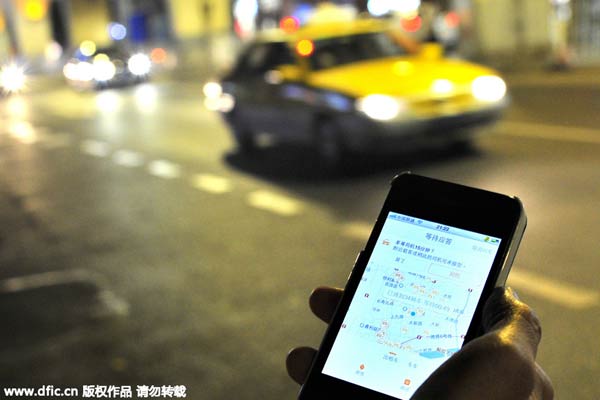 A man uses taxi-hailing app Didi Dache on his smartphone on a road in Guangzhou city, South China's Guangdong province, April 9, 2015. [Photo/IC]
Didi Kuaidi is planning to sell cars through its platform, as the ride-hailing major seeks to diversify its business mix to more segments and sectors.
The Beijing-based company said on Monday it will sell 200 new vehicles by Mercedes-Benz and Tianjin FAW Toyota Motor Co Ltd, on its platform on Saturday.
Consumers can pay 40,000 yuan ($6,200) less to buy two models of automobiles on Didi Kuaidi, whose market prices are about 300,000 yuan. Users can book appointments and pay a deposit on the car-hailing platform before picking up the cars at designated 4S stores.
The sales event targets consumers in six cities: Beijing, Shanghai, Hangzhou, Guangzhou, Shenzhen and Chengdu where Didi Kuaidi is offering test-drive services.
Zhu Lei, vice-president of Didi Kuaidi, said the campaign marks the company's latest attempt to offer more targeted marketing services for automakers
"By offering test-drive services, we can accumulate data on what types of cars consumers like. Selling automobiles online offers a chance to turn such understanding of consumer preferences into precision marketing, which in turn will boost the proportion of consumers who actually buy cars," he said.
In October, Didi Kuaidi launched test-drive services, a product it said "has a huge business potential". Through its platform users can get hands-on driving experience of about 100 models.
Zhu said the company plans to expand the service to more than 30 cities within a year but more studies are necessary to make car sales a regular business.
Wang Xiaofeng, an analyst with market research firm Forrester Research Inc, said the move is part of Didi Kuaidi's broad efforts to monetize its huge user traffic.
"I don't think Didi Kuaidi wants to become an e-commerce site to sell cars, which demands large investments. Instead, it is in a better position to become a marketing platform. This is a low-cost strategy and the most efficient way to tap into its sizable user base," she said.
Currently, Didi Kuaidi has 250 million registered users. With services available in 259 Chinese cities, the company dominates the country's private-car hailing market with 83.2 percent in the third quarter of this year, according to Beijing-based Internet consultancy Analysys International.
Its arch rival Uber Technologies Inc is a distant second in China with a market share of 16.2 percent. The US-based technology company has also been offering its users on-demand test drives.
Jia Xinguang, a senior analyst with the China Automobile Dealers Association, said it is a well-calculated decision for ride-hailing platforms to offer test-drive services before selling cars, but automobiles can never be sold simply through online channels.
"Customers need to visit the dealerships in person to feel and check a car. Offline dealers are also needed to ensure deliveries and after-sales services. The online-to-offline car deals ultimately are still directed to offline dealers," Jia said.