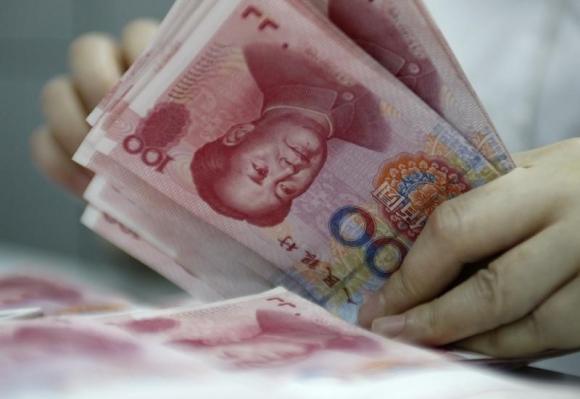 An employee counts yuan banknotes at a bank in Huaibei, Anhui province June 22, 2010.[Photo/Agencies]
China is ready to intensify measures to open up its financial market, a high-level government meeting pledged on Wednesday.
The promise followed the inclusion of the renminbi in the International Monetary Fund's basket of currencies with special drawing rights.
China will promote greater use of the renminbi in cross-border transactions and better convertibility of the capital account, it was decided at an executive meeting of the State Council presided over by Premier Li Keqiang.
The meeting also decided to ease cross-border lending in pilot free trade zones in China.
A statement issued after the meeting said that amid efforts to push forward financial reforms in a risk-controlled environment, more trials will be introduced elsewhere.
In Taizhou, Zhejiang province, where small and medium-sized enterprises are better developed, direct financing of SMEs from both onshore and offshore will be encouraged by the government through specialized financial institutions.
In Jilin province, a major grain base, reforms will be conducted on rural finance.
The statement said the Chinese government welcomes the IMF's decision on the renminbi, which shows that China's reform and opening-up has been recognized by the international community.
The decision will "further push the internationalization of the renminbi", it said, stressing that the government will continue with prudent macroeconomic management.
The IMF decided on Monday to include the renminbi in its reserve currencies basket with the third-highest weighting after the US dollar and the euro.
"China will keep the floating exchange rate system under management," the statement said, to maintain it at a "reasonable and balanced level".
Following the inclusion of the Chinese currency in the special drawing rights basket, observers said China is likely to see large amounts of capital inflows into renminbi assets in the medium to long term.
Also at Wednesday's meeting, the government approved a draft amendment to the Family Planning Law, which clarifies that all the families in China are allowed to have a second child.
The draft will be submitted to the National People's Congress Standing Committee, the nation's top legislature, by the end of this month at the earliest.