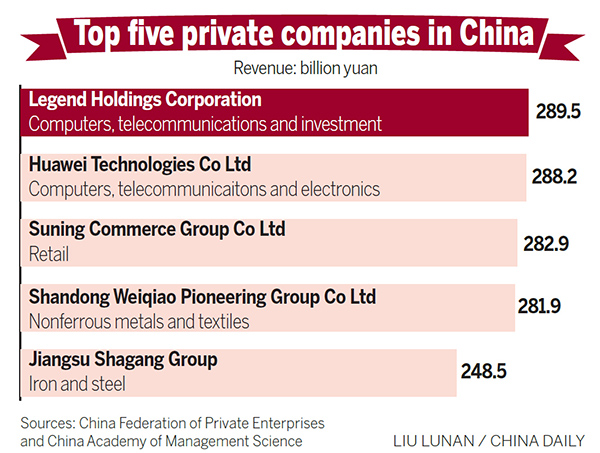 China's top 500 private companies have made significant contributions in fostering innovation, creating jobs and tax contributions, a new report said on Monday.
The report, published by the China Federation of Private Enterprises, an industry association, and the China Academy of Management Science, a government think tank, ranked Legend Holdings Corp, the largest shareholder in personal-computer maker Lenovo Group Ltd, as the leading private enterprise in China with operating revenues of 289.5 billion yuan ($45 billion). It was followed by telecom giants Huawei Technologies Co Ltd and retail giant Suning Commerce Group Co Ltd with revenues of 288.2 billion yuan and 282.9 billion yuan, respectively.
Private firms have made an increasingly larger contribution to the economy and made more efforts in innovation, investment and international competitiveness, in addition to job creation and tax contributions, the report said.
Sectors like big data, cloud computing, biology and new materials have tremendous growth potential due to the new trade initiatives like the Silk Road Economic Belt and the 21st Century Maritime Silk Road.
Overall, manufacturing enterprises are still better off than others in terms of growth potential. Sectors like electrical machinery, construction and nonferrous metal metallurgy have done reasonably well, the report said.
Breaking down the numbers, there were 33 nonferrous metal metallurgy companies and 38 iron and steel enterprises in the list. Shandong Weiqiao Pioneering Group Co Ltd, a super-large enterprise that focuses on textiles, garments and dying services as well as thermoelectricity and aluminum, was ranked fourth.
Private enterprises also made further inroads into overseas markets and increased their investments, due to the new opportunities from the Belt and Road Initiative. This year, about 500 companies achieved revenues of $316.7 billion through overseas operations, up 48 percent from a year earlier.
Companies in eastern China accounted for 61 percent of the country's private enterprises, with Zhejiang and Jiangsu provinces taking the most spots. But, companies in central and western regions are catching up, and added 23 companies to the list from last year.
Sun Lijian, vice-dean of the school of economics at Fudan University in Shanghai, said: "Most of the enterprises made it to the list with their own independent innovation. They braced for competition in the marketplace instead of growing on the support of encouraging policies.
"Some leading private companies such as Huawei, and foreign companies such as Samsung Electronics Co Ltd, established leading positions in their sectors by specializing and diversifying their products."
The government should help break the monopolies, open up the market and encourage competition to let private enterprises speed up innovation, Sun said.