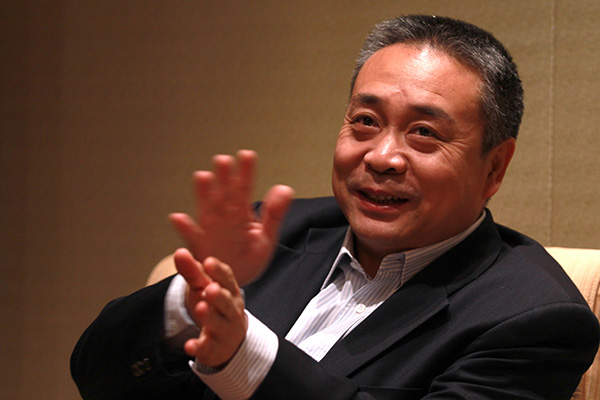 Zhang Wentong, director of the administrative committee of the Wuhan East Lake High-Tech Development Zone. [Photo provided to China Daily] 
The city of Wuhan will step up efforts to attract top-end talent to its high-tech enterprises, participants at a recruitment fair in Beijing said on Sunday.
The second-tier city is gearing up to channel the expected brain drain from metropolitan cities, they said.
Since the capital of Hubei province offers lower cost of living, better working conditions, entrepreneurial environment and pro-business policies, professionals now based in first-tier cities are expected to work or start a business in Wuhan, they said.
The "Hubei Talents, Come Home" fair targeted people born in the province, those who studied there, and professionals who may be willing to work there in future.
The Wuhan East Lake High-Tech Development Zone, home to many enterprises, offers many work opportunities.
At the fair, about 30 enterprises offered nearly 1,000 positions to more than 1,500 applicants from high technology, finance, services and pharmaceutical sectors.
Zhang Wentong, director of the administrative committee of the Wuhan East Lake High-Tech Development Zone, said: "High-tech firms in the zone are lacking in top talent that can support growth.
They hope to discover skilled professionals in first-tier cities. The latter too are looking for better job opportunities and an environment conducive to career growth."
The zone is also known as the "Optics Valley of China". Founded in 1988, it was among the first batch of such zones approved by the State Council in 1991. In 2001, it was approved as a State-level optoelectronic industry base and as a national-level model zone for innovation.
"The scope for entrepreneurship and development gets limited when a city becomes highly developed. Also, the cost of living increases in such places, and the cost of human resources rises for enterprises," Zhang said.
So, sooner or later, a brain drain ensues, from first-tier cities such as Beijing, Shanghai and Guangzhou, to second- and third-tier cities.
Wuhan believes it can benefit from such a brain drain, and so is launching policies to attract talent from first-tier cities.
The local administration proposes to set up an "Internet plus" special fund of no less than 50 million yuan ($7.85 million) each year, to support innovation, entrepreneurship, construction of information infrastructure and industrial parks, and talent cultivation.
That is not all. When professionals decide to buy their first home in the high-tech zone, they will be offered a loan for down payment.