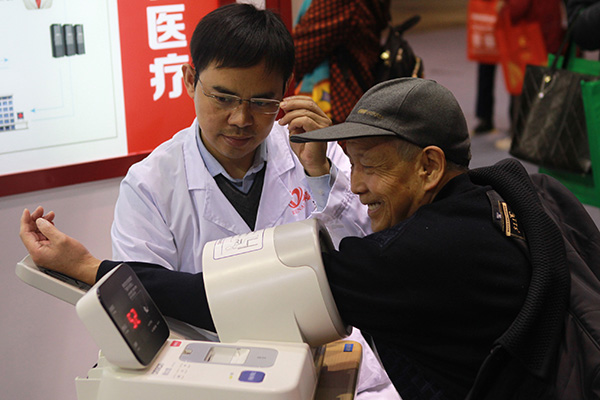 A senior citizen gets a free physical test at an industry expo in Beijing. [Photo/China Daily]
The country's new generation of business owners remains largely confident in China's existing pensions infrastructure over the next five years, according to a new report.
Conducted in August by the China Entrepreneurs Survey System, the study said despite overall weak market demand, more than half (50.3 percent) of those polled said they had confidence in the country's pensions industry.
That compared with 43.1-percent confidence for the travel and leisure sector, 37.2 percent for the Internet and IT services sector, 33.7 percent for China's pharmaceuticals industry, 33.1 percent in the new energy and 32.8 percent in environmental protection sectors, during the period of the 13th Five Year Plan (2016-20).
The fortunes of the automobile, and instrument and meter sectors were not looked upon favorably, however, with just 1.7 percent and 1 percent considering their prospects promising, said researchers at the CESS.
Xu Jiaxi, a senior analyst at Industrial Securities, said China's pension companies and others providing services to the retired, together with endowment providers, and real estate and insurance firms, affect a huge chunk of the economy.
Recent figures from the China Research Center on Aging showed that China had 24 million people over 80-years-old by the end of 2014, which makes the future of the country's endowment sector even more crucial.
Xu believes China's medical care and pensions sectors, particularly, are likely to benefit from the government's flagship "Internet Plus" strategy.
Compared with developed countries, China's pensions industry still effectively lacks any commercial model, and funding in future is likely to come from both the public and private sectors, he said.
According to the CESS survey, under half (49.1 percent) of the young companies polled said the current level of goods and services were "below normal", the worst level in three years.
Just 3.5 percent of business operators said they were "above normal", while 47.4 percent rated them "normal".
Despite current weak market demand, 27.6 percent of businesses were optimistic for the fourth quarter, 58.3 percent believed business levels will remain unchanged, while 14.1 percent expected a worse Q4. Looking ahead 12 months, those percentages were 37.4, 47.2, and 15.4 respectively.
Just under half of the businesses (49.8 percent) expected to make a profit for the rest of the year, 26.3 percent no profit, and 23.9 percent a loss.