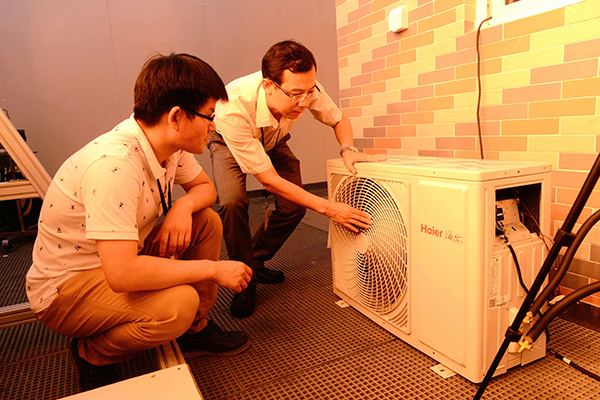 Two employees from Haier Group test the influence of high temperatures on the outdoor unit of an air-conditioner. [Photo/China Daily]
I was flummoxed last week when my collegian son, 17, who studies in Bengaluru in South India, asked me why there was so much social media chat about innovation in China. He said many are now forecasting the country will spearhead innovation.
He is a proud Indian who believes India is the global innovation hotspot. So, to learn there are other countries vying for that tag appears to have upset him. Since I didn't have a ready answer, I promised to get back to him later.
Two recent expert observations enlightened me on what China is now doing best.
First, the McKinsey Global Institute's weighty report entitled 'The China Effect on Global Innovation' highlighted a simple fact: Innovation has become arguably China's most important economic priority. Initially, I thought this was just old wine in a new bottle. It wasn't.
The study shows how innovation will need to contribute at least $3 trillion to 5 trillion, or about half of the country's GDP, annually over the next decade, as the recent impetus from an expansion of labor force and capital investment starts to fade away.
Innovation is no longer a fashion statement for the country, it is a sheer necessity.
McKinsey said China has already made a more-than-solid start by pioneering innovation in key sectors like household appliances, Internet software, solar panels and construction machinery. But that alone won't suffice as it lags in several sectors, it said.
Jonathan Woetzel, the Shanghai-based director of the MGI and one of the authors of the report, said: "The real challenge ahead lies in other forms of innovation, such as scientific discovery and engineering."
Boosting innovation in those areas, he said, would smooth China's transition to a more balanced, consumption-driven economy, by expanding the services sector, providing more high value-added jobs and ultimately raising living standards.
Woetzel insists the building blocks of this next phase of innovation are firmly in place and cites examples of celebrated new-age Chinese companies such as Xiaomi, Alibaba, Baidu and Tencent.
The country has already created adequate capacity for research with huge investment in universities and research institutions, and also leads the world in patent applications.
Second, Zhang Yongwei, vice-director-general of the Enterprise Research Institute under the Development Research Center of the State Council, said during a recent briefing the country's creative and high-tech firms, too, are now considered shining lights of innovation, as its traditional industries flounder.
"Investment in technology is investment in the future," he said. "High-tech development zones and innovation parks in sectors such as communications, medicine, new energy vehicles and smart-equipment startups are already the new growth drivers."