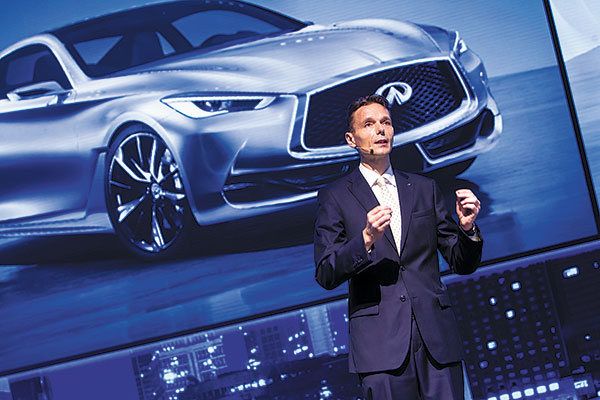 Roland Krueger, president of Infiniti Motor Co Ltd. [Photo provided to China Daily]
To capture the growing market for premium compact sport utility vehicles, premium automaker Infiniti has intensified its product offensive by introducing two models in as many months.
The all-new QX30, Infiniti's second model in the premium compact segment, makes its world premiere on Friday simultaneously at the Los Angeles Auto Show in the United States and the Guangzhou Motor Show in China.
"We want to use this opportunity to demonstrate our commitment to two of the biggest premium markets in the world," said Roland Krueger, president of Infiniti Motor Co Ltd.
A few weeks earlier, the Q30, the sister model of the QX30, was launched in Europe at the Frankfurt Auto Show. Krueger said the launch of the Q30 and QX30 showed the marque is "paying tribute to all three major global premium auto markets with our new compact premium vehicles".
The company expects the QX30 to captivate young buyers and further propel Infiniti's sales growth in the coming years.
"This vehicle addresses the needs and desires of a new premium audience by offering both style and function," Krueger said.
Like the brand's other models, the QX30 follows Infiniti's concept-to-production approach and inherits the brand's DNA.
The model features all of the brand's trademark design features, such as a double-arched grille, human eye-like headlamps and a crescent cut C-pillar. Its smooth lines and sculptural shapes look as if they are stretched over bone and muscle.
"It looks as if it was designed through human artistry-functionality and efficiency is hidden within the design rather than defining it," Krueger said.
True to its SUV pedigree, the model has an increased ground clearance, unique side sills, a more rugged appearance to its bumpers, wider wheels and the option of a roof rack.
Its intelligent four-wheel drive system enables drivers to feel at ease and in control at all times.
Fast-growing brand
Krueger believes the QX30 comes at a moment of significant opportunity for Infiniti, as sales of the brand performed well this year and it continues to be one of the fastest growing premium brands.
The company sold about 173,000 vehicles around the world in the first 10 months of this year, up 16 percent year-on-year.