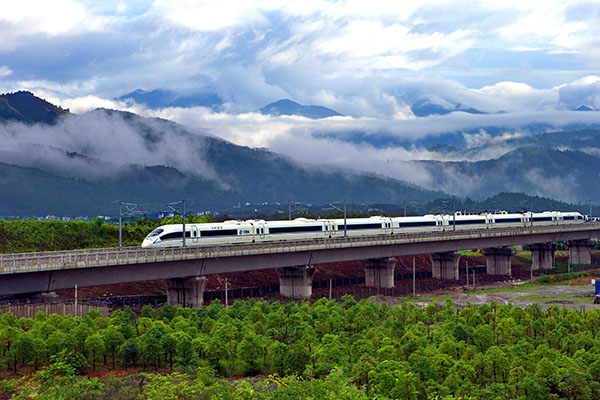 A train runs on the Hefei-Fuzhou high-speed rail, dubbed as China's most beautiful rail route. [SHI JIAMIN/CHINA DAILY]
BEIJING - The Export-Import Bank of China (China EximBank) on Thursday signed a lending agreement with China Railway Corporation to help the latter explore global markets.
The bank will grant the railway contractor a line of credit of up to 500 billion yuan ($80 billion) for major infrastructure projects, according to the agreement.
China Railway is speeding up efforts to increase its overseas presence.
The company and four Indonesian firms have agreed to set up a joint venture to build a high-speed railway linking Jakarta and Bandung, the first overseas high-speed railway project for a Chinese company.
The project is expected to start in November 2015 and take three years to complete.
The bank also promised further support to China Railway on railroad construction in Laos and Thailand with another 330 billion yuan in loans in the future.