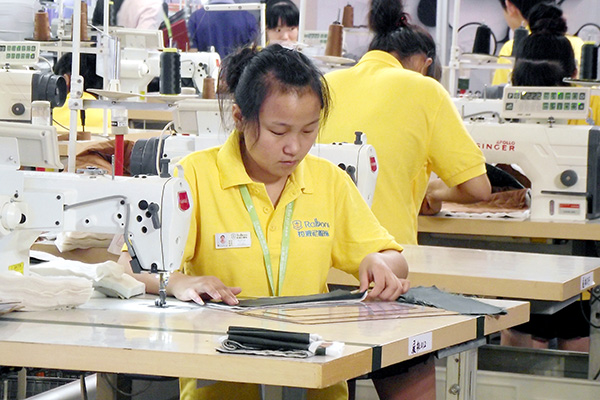 Employees measure cloth before cutting at a private textiles and garments company in Nanjing, Jiangsu province. [Photo/China Daily]
In recent months there's been a slew of initiatives aimed at easing China's transition from an export-driven, to a consumption-led economy. Topmost among them has been the emphasis on fostering young high-impact and high-growth startup companies.
With government pledges of stronger policy and funding support, and easier regulations ringing in their ears, small, private enterprises are now the ones being championed rather than the unwieldy, often debt-laden State-owned firms, which dominated the landscape for decades.
The goals of this "mass entrepreneurship" are raising national productivity and industrial quality, and achieving less dependence on Western trading partners.
Of course, that is not to say China's modern economic miracle has so far been solely driven by SOEs. The emergence of titans like Pony Ma, Robin Li, Lei Jun, and Jack Ma-the founders of Tencent, Baidu, Xiaomi and Alibaba, respectively-are already testament to the increased focus on business self-determination and independence.
In 2004, China had 3.3 million privately held companies and 24 million partnerships-individual or family-run operations. By 2013, it had nearly 12 million private firms and 42 million proprietorships.
During the first seven months of 2014, thanks to reforms that did away with the minimum capital requirements, about 1.5 million new companies were created-double the number during the same period in 2013.
The key driver of those numbers, say economists, are the billions of consumer transactions now being made daily, which the State-run system can no longer keep pace with.
And that's where the government's entrepreneurial drive comes in.
Officials hope the moves will replace the country's cheap factory-based workforce with younger, more innovative, business-savvy individuals willing to take the plunge, and get their own ideas off the ground.
This growing startup population is being looked to for products and services needed to meet domestic consumer demand, while at the same time being asked to create the marketing and distribution networks that can increasingly make an impact globally too.
All this upbeat planning sounds well and good.
But there's one vital ingredient that is lacking for the planned surge in numbers to become a reality-a formal framework to help potentially thousands of small startups get up and running.
What this really means is not just funding, but also advice and professional skills needed to navigate the modern entrepreneurial maze.