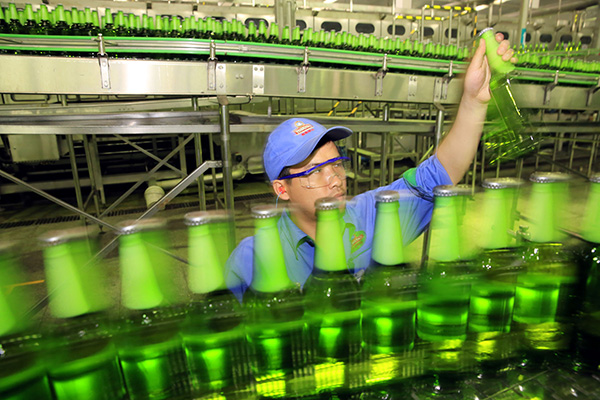 A production line of Tsingtao beer in Jiujiang, Jiangxi province. The beer is sold in more than 90 countries and regions. [Photo/China Daily]
The next time you walk into a supermarket in the United Kingdom, chances are that you will find little green bottles of Tsingtao beer jostling for attention amid better known British brands like John Smith's or Greene King.
Gaining accolades in the UK, however, is just another step in the remarkable journey of one of China's most well-known brands outside the world.
In a short period of time, Tsingtao Brewery Co, one of China's largest brewers in terms of market share, has become one of the fastest-selling brands in the UK.
James Wright, a UK-based Tsingtao dealer, says that though the UK is considered to be a leading tipplers market and home to about 2,000 beer brands, there are just few that have managed to dominate the market.
"Tsingtao has actually been one of the stand-out brands. The Chinese brand accounts for about 42 percent of the UK's imported beer sales," he said.
Though beer sales in the UK have waned of late due to the exorbitant duties, sales of Tsingtao have managed to buck the trend and post double-digit growth rates.
More importantly, for Tsingtao, the success in the UK market is a reflection of its long-term efforts in developing overseas markets through innovation and sustained marketing campaigns.
Last year, Tsingtao's market share in Latin America and South Korea jumped by nearly 50 percent, while sales in West Europe and North America rose by about 20 percent.
Sun Mingbo, chairman of the Shandong province-based Tsingtao, said the pursuit for higher quality through innovation has been a major driver for overseas market expansion.
"For a Chinese brand, it takes decades rather than years to gain recognition in the international markets, and the quality is the foundation to achieve that," he said. "If you lose the trust of consumers, you may never be able to build it up again."
Fan Wei, chief brewer at Tsingtao, believes that the company's success is the direct outcome of constant vigil and quality checks it maintains at each and every stage of the manufacturing process. "For example, it is important to ensure that water used for making beer is of good taste and quality. Since beer is mostly water, the water used for brewing needs to be tested and tasted every two hours," he said.
"We use only uncoated fresh rice as the main ingredient and well within the stipulated three days."