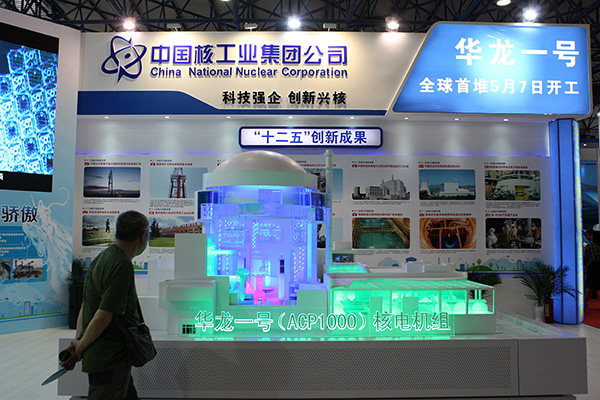 The model of Hualong One, CNNC's flagship nuclear design. [Photo/China Daily]

Hualong One has cost advantages in global power markets
Six to eight domestically produced third-generation nuclear reactors will be exported by 2020, a senior official at China National Nuclear Corp said on Tuesday.
Li Xiaoming, assistant general manager at CNNC, made the remark in reference to deals with Argentina and other countries.
CNNC, together with China General Nuclear Corp, is investing in the United Kingdom's Hinkley Point C project.
"Those deals include not only the Hualong One nuclear reactor, but also other third-generation nuclear designs," Li said during a technology promotion event for Hualong One, CNNC's flagship nuclear design, in Fuqing, Fujian province.
He said that 85 percent of the equipment for reactors based on the Hualong One design can be made locally.
The lineup of some new customers for CNNC are countries that are still underdeveloped, said Ding Jian, vice-president at China Zhongyuan Engineering Group, a unit of CNNC.
To meet some clients' requirements, CNNC must work with Chinese banks to provide financing, he said.
The company is exploring markets in North Africa, South America and Central Europe as well as some new possibilities such as Saudi Arabia, Egypt and Sudan, all of which have shown strong interest in the Hualong One technology.
The Hualong One is cost-competitive with more safety features in the global market, according to Francois Morin, the China director of the World Nuclear Association.
"The trend in the nuclear market seems to be building bigger and bigger nuclear power plants, and when the project becomes big, it also increases the cost," he said. "But the Hualong One is more economical in this regard. Generally speaking, its price is about 10 to 15 percent lower than the AP1000 per kilowatt."
The AP1000 is a third-generation nuclear reactor developed by the United States-based Westinghouse Electric Corp, now owned by Toshiba Corp.
Though much has been made of China becoming a major player in the global nuclear export market, it takes a long time for the technology to be exported on a large scale, Morin said.
"A key challenge is that it takes time for the Chinese company to get to know about the foreign nuclear markets and follow their regulations and policies," he said. "But if CNNC is going abroad with another foreign company, such as EDF or Areva SA from France, it will shorten the process for sure."
By 2030, the global nuclear market is expected to reach $1.2 trillion, according to the WNA.
"The growth of the nuclear market in the future will be half in China and half elsewhere in the world, so China's success with nuclear energy is very important for other nations that are considering this source as a way to reduce carbon emissions," he said.