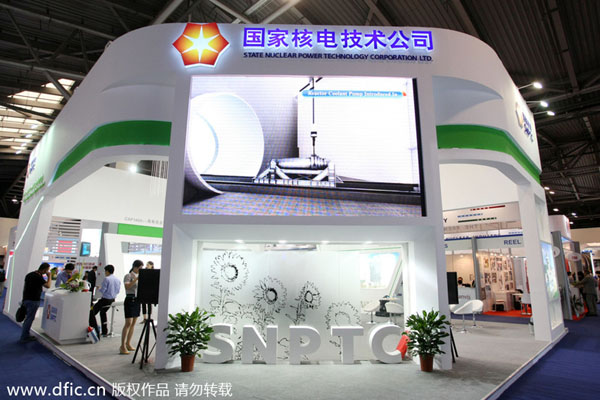 People visit the stand of State Nuclear Power Technology Co (SNPTC) during the 10th China International Exhibition on Nuclear Power Industry (CIENPI) in Shanghai, May 23,  2013. [Photo/IC]
China Power Investment Corporation and State Nuclear Power Technology Corp have officially announced their merger, as Beijing moves to consolidate its nuclear power sector.
China Power currently controls about a tenth of China's nuclear power market, while the State Nuclear was formed in 2007 to handle nuclear technology transferred from US-based Westinghouse Electric Co.
The new company, State Power Investment Corporation, is expected to own assets over 700 billion yuan ($112.94 billion) and to post revenue of over 200 billion yuan annually, state news agency Xinhua said on Saturday, citing Wang Binghua, the chairman and party secretary of State Power Investment Corporation.
China National Nuclear Power Corp (CNNC) said in a prospectus published on Monday on the Shanghai Stock Exchange that the merger to form State Power Investment Corporation will increase competition between China's three major nuclear corporations in both domestic and international construction of nuclear infrastructure. The other major player in this sector is China General Nuclear Power Group (CGN).
China is contemplating a merger between CNNC and CGN which were set up as rivals to compete for projects at home and overseas but, under government prompting, have cooperated on a single reactor brand, Hualong 1, with the intention of eventually marketing it abroad.
Beijing said in January it would aid the overseas expansion of Chinese firms, in particular in the rail and nuclear power sectors, raising hackles with some trading partners who fear it signals another wave of subsidized Chinese exports.