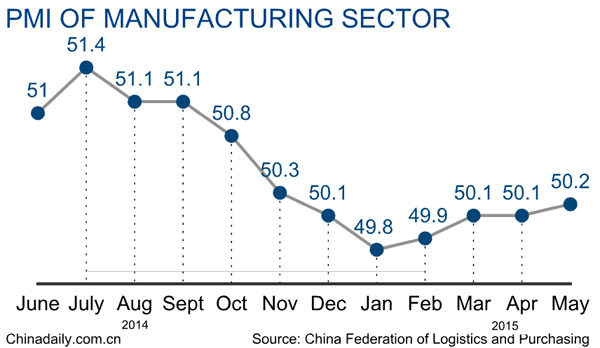 BEIJING -- China's manufacturing business activity continued improving in May, with an important index remaining in expansion territory, official data showed on Monday.
The manufacturing purchasing managers' index (PMI), a key measure of factory activity in China, posted at 50.2 in May, up from 50.1 in April, according to data compiled by the National Bureau of Statistics (NBS) and the China Federation of Logistics and Purchasing.
A reading above 50 indicates expansion, while a reading below 50 represents contraction.
Zhao Qinghe, a senior analyst with the NBS, said China's manufacturing PMI figures have been above the expansion/contraction threshold for the last three months thanks to a string of easing measures by the central government.
The production sub-index posted at 52.9, the highest monthly reading since November. The sub-index for raw material purchase prices remained below the threshold at 49.4, but it has risen notably since January, when it stood at 41.9.
Zhao attributed the downward pressure faced by the manufacturing sector to weak market demand and rising labor costs.
The sub-indexes for new export and import orders in May were both below the expansion/contraction threshold and the import orders sub index has been in a downward trend for two months.