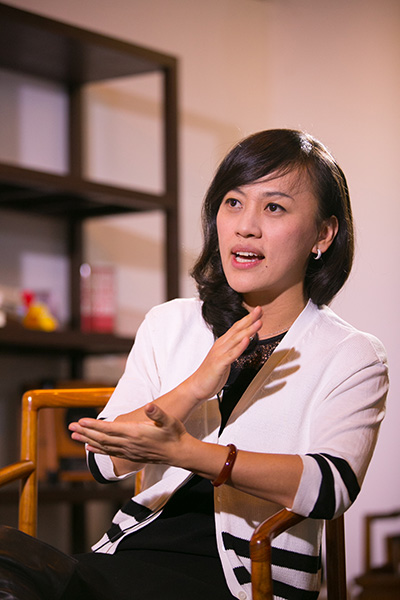 Jean Liu, president of the country's largest car-hailing company. [Photo/CFP]
Car-hailing company boss shares her customer-centric approach and challenges of balancing work with family
Jean Liu, president of the country's largest car-hailing company, was celebrating her 37th birthday on the day China Daily interviewed her. Liu's office could barely fit four people at a time, roughly the same capacity as a regular Beijing cab.
At her office, however, there were no signs of any party. A prolonged business meeting had made her almost miss lunch. Two bouquets and a navy-blue gift box bound with purple ribbons were the only suggestion that someone was having a special day.
Liu was busy figuring out ways to end the traffic jams that have been clogging many Chinese cities for decades. If successful, Liu and her car-hailing company Didi Kuaidi will end up saving several hours of commute time each week for hundreds of millions of office goers and also earn a handsome profit for investors.
But in private, the mother of three and daughter of Chinese technology guru Liu Chuanzhi is also interested in discussing parenting experiences, fitness skills and life wisdom from books.
"Running a startup means having very little time to spend with my children. But I alway manage to find ways to connect with them," she said. Liu usually brings little gifts for her 6-year-old son and 4-year-old twin daughters after coming back from business trips. "I will find some shortcuts," she said.
Her career choice looked like a detour for many, however. Liu made an unexpected career change a year ago to become chief operating officer of Didi Dache, ending a 12-year glorious ride with Goldman Sachs that saw her rise to the post of regional director.
The startup, backed by Internet giant Tencent Holdings Ltd, was in a fierce battle with Kuaidi, a Hangzhou-based rival funded by Jack Ma's Alibaba Group Holding Ltd. The year-long struggle made each company spend more than 1 billion yuan, in subsidizing drivers and passengers.
The cash-burning fight ended in a dramatic way as the two companies announced a merger plan in February. Liu became president of the new company, working with about 1,000 employees at a rented office building in the northwestern suburb of Beijing. Three kilometers to its west is the global headquarters of Lenovo Group Ltd, the world's biggest personal computer vendor that Liu's father founded when she was about the age of her children.
But Liu never got the chance to work for her father. Unlike many heirs of an affluent family, she needed to find her own career path, something that the elder Liu had decided upon two decades ago.
It was a well-placed bet. Even as Wang Sicong, the son of the country's richest man and Dalian Wanda Group Chairman Wang Jianlin, is trading jabs at celebrities on social media, Liu is zealously building the next Lenovo in the transportation service industry.