Virtual reality (VR), also known as computer-simulated life, first appeared in science fiction in the 1950s and was developed for medical, pilot simulation and military training in the 1990s.
The industry began to attract public attention as a developer kit named Oculus Rift. The first truly immersive VR headset for video games was initially mooted on the US crowd funding platform Kickstarter by 9,522 backers who pledged more than $2 million.
The Chinese market has witnessed an investment boom and mass production since Facebook agreed to acquire Oculus VR for $2 billion in cash and stock in March last year.
Here we present eight competitive gadgets that have been revealed to the public according to tech website smarthey.com.
3Glasses
3Glasses launched its developer edition "3Glasses D1" in October last year which was believed as the first immersive VR headset in Asia. Currently, the D2 version can be preordered on its official site at 2,199 yuan ($354) and will be shipped in August. Monetary volume of reservations has reached 1.34 million yuan.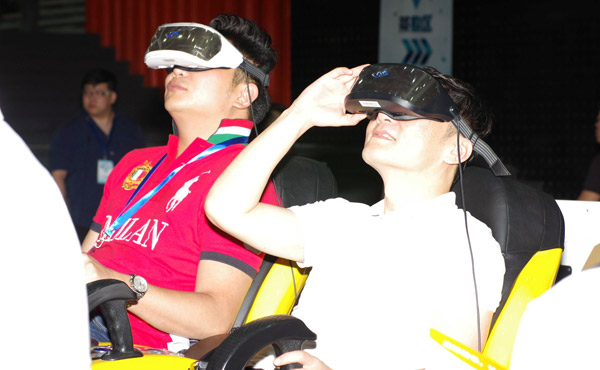 Two men experience 3Glasses. [Photo/3glasses.cn]