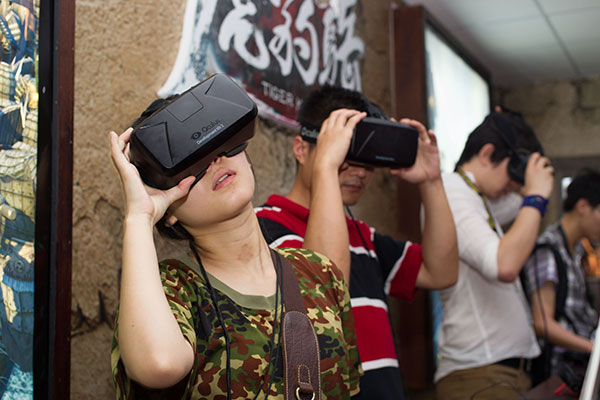 Visitors to the ChinaJoy 2015 expo check out the wearable gaming gadgets in Shanghai. [Photo/China Daily]
Consumer demand for virtual-reality games and equipment is booming, according to industry experts gathered for China's largest gaming and digital entertainment exhibition being held in Shanghai.
More than 20 domestic companies developing VR-related products took part in the ChinaJoy 2015 expo, where they introduced some of the creations that are taking the market by storm.
Also known as computer-simulated life, VR first appeared in science fiction in the 1950s, and was developed further for medical use, pilot simulation and military training in the 90s.
The industry really began capturing the public's imagination, with the launch of the United States virtual reality technology company Oculus VR's Rift headset, considered the first truly immersive VR headgear to be used with video games.
China's VR market has only really taken off, however, since Facebook agreed to buy Oculus for $2 billion in cash and stock in March last year.
Although most VR headgear is still produced by multinationals such as Oculus and Sony-which produces the Project Morpheus VR headset-the devices are yet to be put into what would be considered mass production, leaving a gap for some Oculus-like Chinese-manufactured products to enter the domestic market so far.
Baofeng Mojing, or Baofeng magic mirror, for instance, is an entry-level VR set produced by Beijing-based Baofeng Technology Co Ltd, which has already sold more than 300,000 units since its first generation debuted in September 2014.
"The cost reduction in Chinese VR products, from more than 100,000 yuan ($16,100) down to just 1,000 yuan to 2,000 yuan, is clearly one of the reasons behind their growing popularity," said Weng Dongdong, an associate professor at the center for research on optoelectronics, information technology and color engineering at Beijing Institute of Technology.
"The development of VR helmets is also likely to act as a trigger for better commercialization of the entire hardware chain of VR devices," he said.
Compared with previous military and scientific studies on the subject, which were largely unshackled by commercial constraints on R&D, Wang said the technology being demanded by VR consumers means companies are having to invest heavily in talented engineering teams with widespread abilities.
One of the first companies to work on VR content and design in China was lenQiy Ltd.
The 10-person startup is currently working in partnership with another domestic firm, 3Glasses, to produce what it claims will be the first fully immersive VR headset to be made in Asia, which will also provide game bundles to buyers.
Wang Qifan contributed to this story.