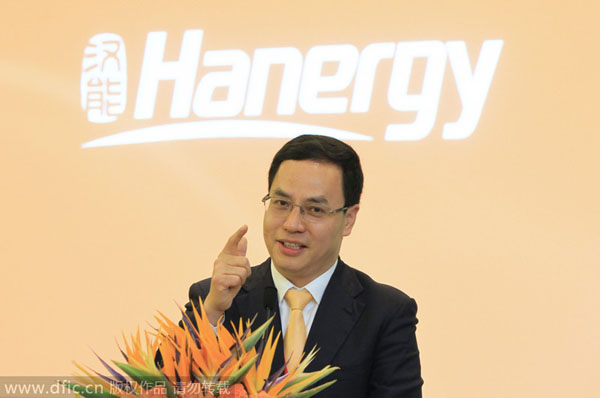 Li Hejun, Chairman and CEO of Hanergy Holding Group Limited, speaks at a press conference during the Boao Forum for Asia Annual Conference 2013 in Qionghai city, South China's Hainan province, April 7, 2013. [Photo/IC]
Hanergy Holding Group, parent of the Chinese solar company whose share sank 47 percent on Wednesday, dismissed having overdue loan, saying its operations run normally.
Shares of Hanergy Thin Film Power Group remain suspended from trading, pending release of inside information, according to a regulatory announcement by the Hong Kong-listed company.
The group didn't reduce stake in Hanergy Thin Film, nor use its stocks for any derivative trading, said the parent company in a statement on Thursday.
Hanergy Group and its associates hold about 30.6 billion shares in the Hanergy Thin Film, according to the statement.
However, the statement didn't respond to a report by Reuters that the company was under investigation by Hong Kong regulatory authority for alleged market manipulation.
Hanergy Thin Film plunged 47 percent on Wednesday within 24 minutes before the trading halt, evaporating $19 billion of its market value. The rout came amid a questionable run-up as the company's shares had jumped more than five-fold in the past 12 months.
Li Hejun, chairman of Hanergy Group, attended the opening ceremony of its first clean energy exhibition center in Beijing while the shares tumbled. The venue in Olympic Forest Park is expected to promote public awareness and exchange ideas on the energy issue.
Founded in 1994, Hanergy Group is the country's biggest thin-film maker, with core businesses covering hydropower, wind power and solar power.
Hanergy Thin Film reported 193 percent year-on-year increase in revenue to HK$9.6 billion and 64 percent increase in net profit to HK$3.3 billion in 2014.
Li Hejun denied of manipulating share price in an interview with Xinhua in April, as response to Financial Times' earlier reports which cautioned the company's "unconventional" accounting practices and "unusual trading pattern" in the past two years.