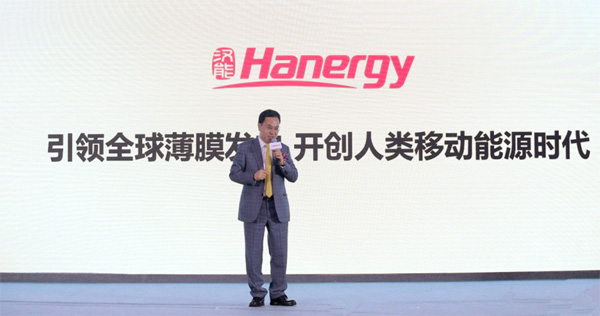 Li Hejun, chairman and CEO of Hanergy Group Co Ltd, speaks at a press conference in Beijing to announce the deals, April 13, 2015. [Photo/China Daily]
Hanergy Holdings Group Co Ltd, China's biggest thin-film maker, has signed deals with two manufacturers, offering a one-stop mobile energy solution.
The agreements with Shandong Thaian Dining Equipment Co Ltd and Suzhou Yigao Electric Car Manufacturing is Hanergy's latest retail push for its solar products.
Using Hanergy's thin-film techniques, the manufacturers' products will be more environmentally friendly.
The deal with Shandong Thaian creates the world's first dining car solely fueled by solar energy. "It is a huge market and our cooperation is a long-term one," said Wang Jingdong, chairman of Shandong Thaian. The company's dining cars have been exported to more than 30 countries.
Li Hejun, chairman and CEO of Hanergy, said the value of mobile energy industries would exceed 8 trillion yuan in the next three years.