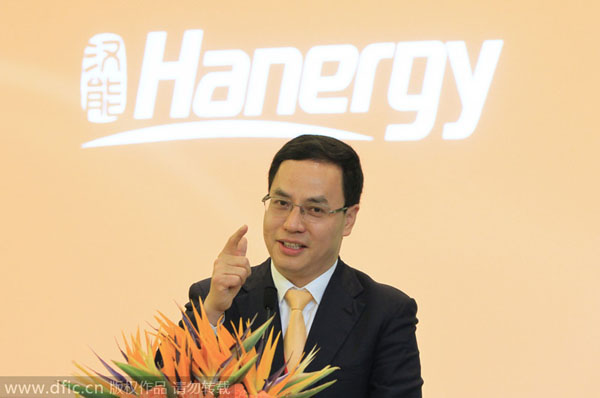 Li Hejun, Chairman and CEO of Hanergy Holding Group Limited, speaks at a press conference during the Boao Forum for Asia Annual Conference 2013 in Qionghai city, South China's Hainan province, April 7, 2013. [Photo/IC]
China's Hanergy Thin Film Power Group said its shares were suspended for trading on Wednesday after its stock fell nearly 50 percent.
Before the plunge, Hanergy had seen its value soar six-fold in the past year to $37 billion - more than its nearest two dozen rivals combined, even as analysts and market watchers questioned the validity of some of its bullish proclamations.
Controlled by Li Hejun, the firm has mainly relied on its parent - Hanergy Holdings Group Ltd - for revenue and profits.
Li holds a 80.85 percent stake in Hanergy, according to the Hong Kong Exchange. His fortune saw HK$116 billion ($14.96 billion) wiped out after the plunge in half an hour trading on Wednesday.
Hanergy officials were not immediately available to comment.
Trade was active with more than 170 million shares traded in the first hour of Wednesday's session, far more than the daily average for the stock over the past month, according to Thomson Reuters data. The broader market was down 0.4 percent.
The company is involved in the manufacturing of equipment and production lines used to make thin-filmed solar panels that convert sunlight into electricity.