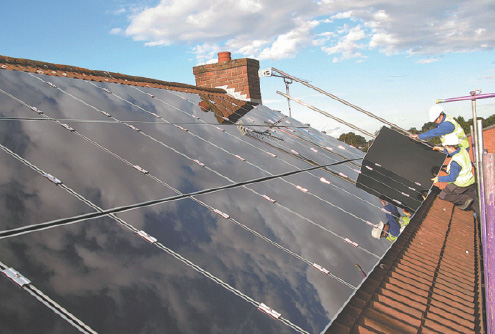 Workers with Hanergy Group install solar panels for a customer in the United Kingdom. The company is devoted to providing new solutions for greenhouses in rural China. [Photo/China Daily]
Cunningly hidden among mountains of colored roses and gardening tools, Hanergy Group's stand at the recent Hortiflorexpo in Shanghai also had its very latest solar-power technology on show.
The display, by the biggest private thin-film solar energy producer in China, was all part of its efforts to help the country's agriculture industry to become greener.
Visitors gathered around one model in particular, the three-meter-long by two-meter-high, ultra-thin and lightweight solar panel, which can be easily installed on the roofs of agricultural greenhouses, said company officials.
"Low energy efficiency and high carbon emissions have long been a problem for the agriculture industry, especially for greenhouses," said Zhang Yaofeng, a facilities expert from the Chinese Academy of Agriculture Engineering.
Some areas in northern China are using geothermal energy to provide light and heat to greenhouses in winter, which have achieved certain success, he said.
"Hanergy's new solution to use thin-film solar panels will provide a way for these greenhouse owners to raise efficiency and profitability," Zhang said.
The company claims its solar panels can be used in greenhouses for flowers, vegetables and growing seedlings.
In addition to the electricity used for lighting and heating, any extra power can be connected to the grid and sold.
Liu Min, vice-chairman of the group, said: "Every greenhouse will become a small distributed power station, which will save farmers the cost of having to install long-distance power transmission lines."
As well as energy-saving advice, the company plans to offer finance and construction services to farmers wanting to use the system.
"We hope our technology will provide some much-needed sunshine to the agriculture sector by making it more profitable," Liu said.
"If every greenhouse can be installed with a solar panel system, it will help with the country's ongoing fight against smog and emissions," Liu said.
Wang Han, a farmer who visited the expo, said he had worried about the light-emitting qualities of the panels, and made a point of asking Hanergy staff whether greenhouses growing flowers or vegetables were suitable for solar power.
Zhang Penglong, a project development officer with the group's agriculture application unit, told the farmer that the company could custom-design him a system, adding it has an expert team which works with clients to calculate exactly how much sunlight particular plants need.
"The panels' installation will be completed according to specific needs," he said.