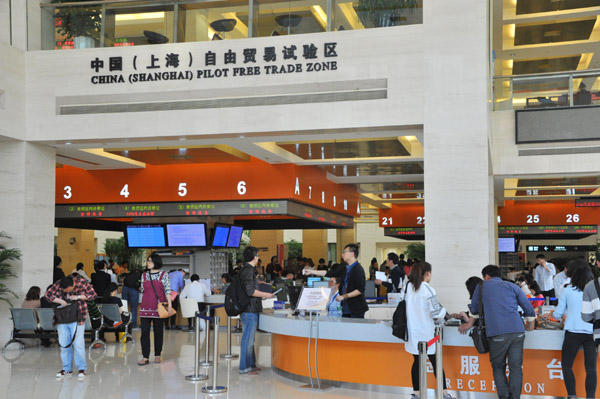 Reception section of the China (Shanghai) Pilot Free Trade Zone. The FTZ will focus on constructing a high-tech and innovative center. [Photo/China Daily]
'Belt and Road Initiative' will help the expanded FTZ promote expansion in the region with range of world-class options
Shanghai can become the economic heart of the Yangtze River Delta by offering a global-standard business environment to more privately owned enterprises.
The further expansion of the China (Shanghai) Pilot Free Trade Zone recently is all part of the "Belt and Road Initiative" and paves the way for growth in the region.
The Shanghai FTZ will now include the Lujiazui Finance and Trade Zone, Zhangjiang High-Tech Park and Jinqiao Export Processing Zone. This in turn will increase the area of the FTZ by more than four-fold to 120.27 square kilometers.
"The Shanghai FTZ will focus on constructing a high-tech, innovative center," said Sun Jiwei, governor of Pudong New Area, the business center of Shanghai.
"This will tightly follow the 'Belt and Road Initative' and Yangtze River Economic Belt strategy."
A key impact of expanding the Shanghai FTZ will be the single-window policy, which will help the city's trading companies. This means customs clearance costs will be reduced at the border ports of Zhejiang and Jiangsu provinces to speed up the process.
"The shortened customs clearance process will enable those trading companies out of Shanghai to share the same privileges with local enterprises," said Chen Bo, secretary-general in the free trade zone research institution of the Shanghai University of Finance and Economics.
Chen pointed out that Shanghai is now ideally positioned to become the economic engine of the Yangtze River Delta as part of the "Belt and Road Initiative". At the same time, this will boost the domestic economy and expand international trading routes.
As one of the new FTZ areas, Zhangjiang hopes to become the "incubator" of small and medium-sized businesses by offering fledgling companies the chance to locate to Shanghai.
"We are keen to transform Zhangjiang into a high-tech innovative incubator for SMEs to develop the products and industries there," Ma Limin, deputy director of Science & Technology Management Section of the Science & Technology Commission in the Pudong district, said.