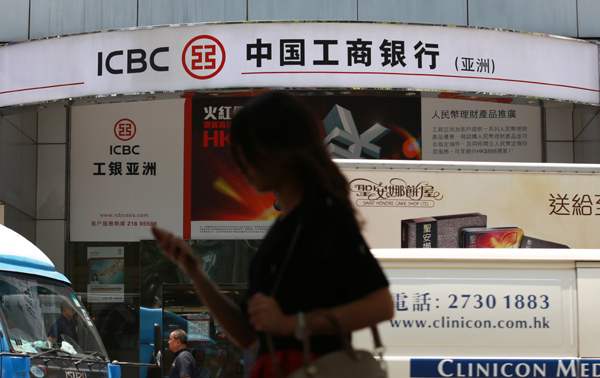 An Industrial & Commercial Bank of China Ltd branch in Hong Kong. The ICBC posted a net profit of 276.3 billion yuan ($44.5 billion) in 2014, up 5.1 percent year-on-year. [Photo/Agencies]
The slowing economy is not affecting Chinese companies' growing global prominence, with the nation's four biggest banks sweeping the top slots on the Forbes Global 2000 list of public companies.
Industrial and Commercial Bank of China Ltd stayed in first place for the third year, while Bank of China Ltd took over from JP Morgan Chase & Co as the fourth-largest company on the business magazine's list. The other two "Big Four" banks-China Construction Bank Corp and Agricultural Bank of China Ltd-ranked second and third, respectively.
Companies based in the Chinese mainland, especially banks, are playing a major role on the global stage. That is especially true in the banking sector, which is helping finance construction projects around the world, many of them undertaken by Chinese companies.
The nation's "Belt and Road Initiative" to enhance regional connectivity mean that more Chinese companies will grow bigger and stronger in the international arena, experts said. The strategy refers to the Silk Road Economic Belt and the 21st Century Maritime Silk Road.
The list, which has been published since 2003, weighs four factors: sales, profits, assets and market value.
The largest companies in the ranking are based in 61 countries and regions, and they generated total revenue of $39 trillion and total profit of $3 trillion last year. The capitalization of these 2,000 companies increased 9 percent amid bullish equity markets, the largest rise among the four parameters, according to Forbes.
Apart from the banks, China National Petroleum Corp, also known as PetroChina, made it into the top 10, ranking eighth on the list.
Among countries, the United States continued to dominate with 579 companies, followed by China, which is home to 232 of the largest companies.
Japan, the United Kingdom and France were far behind.
Due to a boom in the global market for initial public offerings, more than 20 newly listed companies were on the list, including Chinese e-commerce giant Alibaba Group Holding Ltd and Dalian Wanda Commercial Properties Co Ltd, headed by China's richest man, Wang Jianlin.