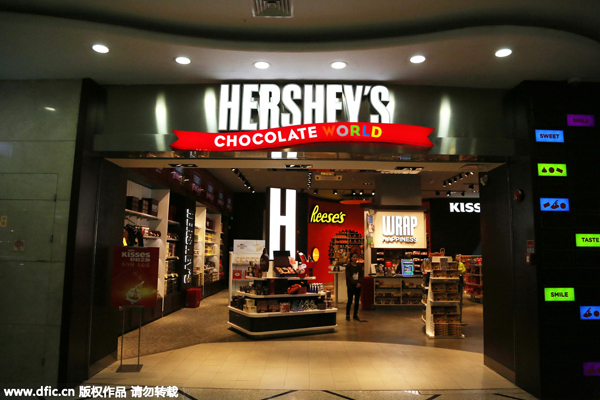 A Hershey store in Shanghai, March 11, 2015. [Photo/IC]
Undaunted by the sluggish sales during the first three months of the year, confectionery giant the Hershey Co remains confident of ending the year on a solid note with a slew of new product launches.
The company launched Brookside chocolate-covered jelly candies in China on Friday to further consolidate its presence in the country. Brookside Foods was a Canadian company acquired by Hershey in 2011.
The candies, comprising of chocolate covered nuts and dried fruit and currently available only in North America and Canada, is expected to further boost the company's sales in China. It will launch the Brookside products in key markets like Shanghai, Jiangsu, Zhejiang and Anhui, and also make it available through some prominent department stores in Beijing and Guangzhou.
Apart from the brick-and-mortar stores, including supermarkets or convenience store chains, Hershey's e-commerce platform on Tmall will also help with distribution.
Prices for the three Brookside packages of 30 grams, 50 grams and 125 grams are 7 yuan ($1.1), 19.9 yuan and 26.9 yuan, respectively.
Hershey is "not cautious at all" in bringing in new brands into the Chinese market. Instead we are very excited to introduce the "guilt-free and indulgent" chocolate product which is the company's "highest repeat product" among its 80-plus portfolio, said Philip F Stanley, general manager of Hershey Greater China.
"We have 10 percent of the market share in the Chinese chocolate market and we expect continued growth after the introduction of Brookside. The average consumption of chocolate per capita in Switzerland is 10 kilograms every year and 5 kg in the United States. But in China it is just a dozen grams, which means there is great potential for growth," said Stanley.
Hershey in China registered a 30 percent growth in 2014 and a 5 percent year-on-year growth in the first quarter of the year. Due to the sluggish fast-moving consumer goods industry and less-than-stellar performance during the Lunar New Year period, Stanley admitted that growth during the first quarter was below expectations. "But we are confident that the Chinese market will generate more sales," he said.
Hershey acquired 80 percent of Chinese snack producer Shanghai Golden Monkey Food Joint Stock Co Ltd in late 2013. It will purchase the remaining 20 percent by the end of this year, according to Steven Clay Schiller, regional president of Asia, Europe Middle East & Africa at Hershey Asia Pacific Pte Ltd.
"We would like to create more of the chocolate culture in China," said Schiller during the opening ceremony of the China Chocolate Festival on Friday which is being held by Hershey for the first time in Shanghai.
According to market consultancy firm The Nielsen Co's latest survey on Chinese consumers' eating habits, there are a large number of Chinese consumers who expect to buy the same amount of indulgences this year as they did last year. The most popular indulgences are cookies and cakes, while chocolate candies come third on the list with 37 percent of the respondents indicating that they have the required budgets to purchase them.
The world's largest chocolate manufacturer Mars Inc predicted that the demand gap for cocoa butter will amount to 1 million metric tons globally by 2020 mainly due to a surge in chocolate demand from emerging Asian economies such as China. Market consulting company Euromonitor International said that sales revenue of chocolate rose by 58 percent in 2013 from that in 2009.