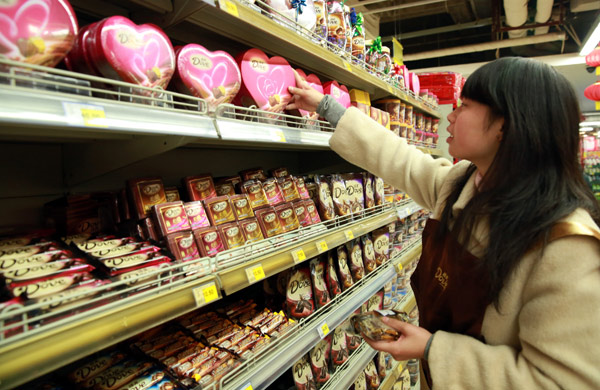 A shop assistant arranges chocolate products in a supermarket in Nanchang, Jiangxi province. Younger Chinese consumers found that March 14, White Day, was a good excuse to buy chocolates for their beloved.[Photo provided to China Daily]
Chocolate retailers recorded a further jump in business in the week leading up to March 14, White Day. This is a commercial holiday observed in some Asian countries, when men are supposed to offer gifts to their sweethearts, one month after Valentine's Day, when women gifted them chocolates.
Chocolate sales in China are expected to expand to $4.3 billion by 2019, rising nearly 60 percent from $2.7 billion in 2014, lifted by outstanding demand from the growing urban population, Bert Alfonso, president of Hershey International, forecast in a recent webcast at the Consumer Analyst Group of New York conference.
The anticipation reflects chocolate multinationals' bet against growing demand from emerging markets. Their expansion plans aren't slowing down, despite the profound changes in China's economic structure.
The Chinese chocolate market is low-saturated with consumption falling far behind the global average. Chinese consume 40g to 70g of chocolate annually per capita, whereas the figure is 2kg in Japan and South Korea, 6kg in the United States and 12kg in Switzerland, the highest in the world, according to data provided by Godiva Chocolatier.
The Hershey Company said growth in demand in emerging markets closely tracked their GDP growth, and the expansion of the urban population in China will further drive up chocolate consumption. Hershey is hopeful of benefiting from continued strong consumption in China and other Asian markets.
Hershey acquired Shanghai Golden Monkey Food Co in December 2013, becoming part of the ongoing trend of multinational companies seeking to acquire local chocolate companies.
"Consumers are embracing our brands in China as we outpace category growth. We are excited about the potential for Shanghai Golden Monkey," Alfonso said.
Through mergers and acquisitions, multinational chocolate makers are able to boost their presence in second-and third-tier cities in China, growing sales and widening their distribution networks. This will also help multinationals broaden their product portfolios to tailor them to the requirements of Chinese consumers, according to research company Euromonitor International.
Meanwhile, the top 20 global chocolate brands have launched in China, as the Chinese chocolate market is beginning to heat up. Premium European chocolate retailers have seen solid sales growth in China, and they plan to expand even further in the Asian market.
French handmade chocolate maker Debauve & Gallais said it plans to open more boutique stores in China. In addition to already having a presence in major cities such as Beijing and Shanghai, the company also plans to enter second-tier cities.
"Increasing competition will be the most pressing issue as more Western chocolate brands enter the Chinese market," said Shelley Zheng, managing director of customer service at Debauve & Gallais.
In addition, the company finds that Chinese women make up 60 to 75 percent of chocolate consumers, as they have a higher preference for desserts, and average Chinese consumers are younger than their Western counterparts.
"Women began to buy chocolates as gifts for their spouses in recent years," Zheng said.