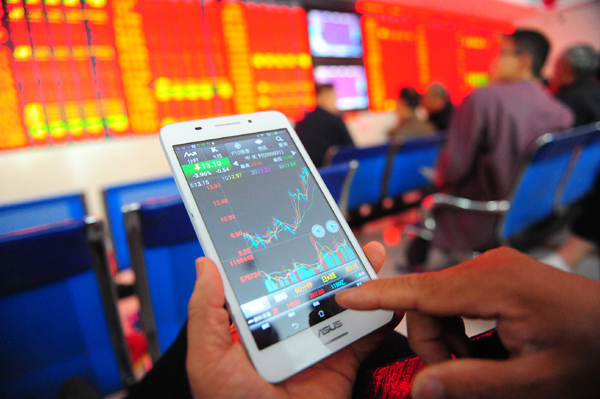 Investors are in front of a screen displaying stock indices and prices of shares at a securities brokerage in Fuyang, East China's Anhui province, Dec 11, 2014. [Asianewsphoto/Wang Biao]
The securities regulator has vowed to crack down on the illegal practices on China's New Third Board, the pilot national share transfer system for small and medium-sized enterprises.
The board's explosive expansion, which has seen its market value top 1 trillion yuan ($160 billion), rising from just 800 million yuan two years ago, has sounded alarm bells with the China Securities Regulatory Commission.
The regulator will focus on trading irregularities including the violation of information disclosure and trading rules, investor requirements, insider trading, as well as insufficient due diligence by intermediary financial institutions, said spokesman Zhang Xiaojun.
Shares in more than 2,000 small and innovative firms are traded on the New Third Board, officially known as the National Equities Exchange and Quotations. The minimum capital requirement for individual investors to trade on the board is 5 million yuan.
The State Council expanded the pilot program in 2013 to channel more funds into the country's capital-deprived startups. That expansion led to a surge in the number of listed companies being traded and the levels of capital raised, increasing officials' concerns over speculation of illegal practices.
"The New Third Board plays an important role as a fund-raising platform for small companies," Zhang said in Beijing on Friday. "The regulator is stepping up its oversight of the market to ensure its healthy development."
China's stock market rebounded on Friday with the benchmark Shanghai Composite Index rising 2.28 percent to close at 4,205.92 points. The recovery halted a three-day, 8.2 percent losing streak as the country's weak trade data for April spurred expectation of further economic stimulus.
Investor sentiment was also raised on speculation that a trading link between exchanges in Shenzhen and Hong Kong, similar to the Shanghai-Hong Kong Stock Connect program, will start in the fourth quarter.
The CSRC spokesman dismissed the rumor, however, saying that the launch of the trading link is still being studied by the regulators.
The Shanghai bourse slid 5.3 percent since Monday, the biggest weekly loss in five years, on concerns new share sales will lock up market liquidity.
Some analysts cautioned the worst is not over for Chinese stocks with the regulator expected to take further steps to curb margin trading, or highly leveraged borrowing from a broker to purchase stocks. The market also remained jittery over the slower economy and poor corporate profits, they said.
"Shares are experiencing a healthy correction and the market could see more corrections amid ongoing policy risks," Mandy Chan, a fund manager with HSBC Global Asset Management, was quoted by Bloomberg as saying.