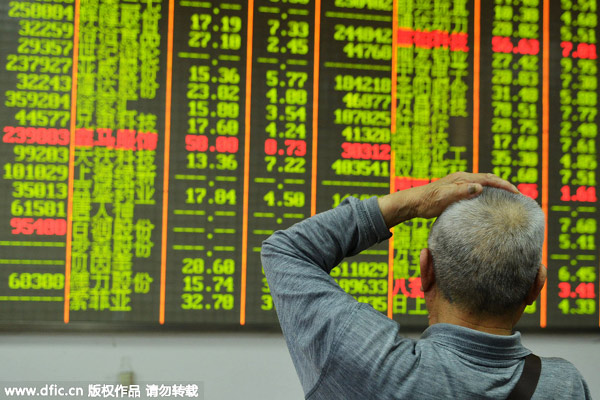 A Chinese investor looks at prices of shares at a stock brokerage house in Hangzhou city, East China's Zhejiang province, May 7, 2015.[Photo/IC]
The two-month bull run of China's A-share market has finally come to an end. On Tuesday the indexes of both Shanghai Stock Exchange and Shenzhen Stock Exchange fell by more than 4 percent, the biggest single-day drop since late January. Comments:
The just-ended bull market was crazy; it far exceeded the expectations of the real economy, and stock prices overrated the profit potential of many companies. It was the authorities that created the bull market with the purpose of allowing more companies to be listed and solving financing problems. In such situations, individual shareholders who invest with their salaries become the biggest victims when the tide falls.
The Xinhua-sponsored think tank Outlook, via WeChat, May 7
The past two months witnessed too many abnormal things in the A-share market, like residents selling their houses to buy shares. Chinese individual investors still behave immaturely when bubbles emerge, which in turn makes it possible for the bubbles to grow bigger and cause more harm. We hope Tuesday's incident teaches them a lesson and more people realize the importance of investing rationally, instead of blindly following the trend.
Beijing Times, May 6
A solid, long-term bull market is only possible when the prospects of the macro-economy are good, a rule that applies from Wall Street to Tokyo and Shanghai to Shenzhen. During the bull run in the past two months, there was an obvious economic slowdown, higher pressure upon economic growth and, most importantly, massive liquidity flow from the real economy into the speculation market; all these implied that the bull market was built only on sand.
Beijing Youth Daily, May 6
In a healthy capital market, the rise or fall of stock prices are common because evaluations of listed companies change with time. While economic transformation promotes new, emerging industries, the reform of State-owned enterprises will help revive traditional ones and stabilize general expectations from the domestic stock market in the long run.
Chen Wei, an investment consultant at CITIC Securities, May 6