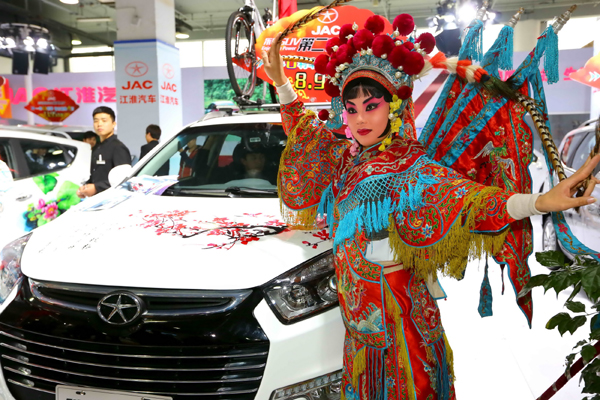 A Peking Opera model and a China-made car at the 13th Wenzhou International Auto Expo in Wenzhou, Zhejiang province, on April 9. China's total vehicle sales will expand less than 7 percent this year. [Photo for China Daily]

Automakers react with discounts, as price war looms
Passenger vehicle sales in China rose at the slowest pace in five months as weaker economic expansion hurt demand for big-ticket purchases.
Retail deliveries of cars, multipurpose and sport utility vehicles climbed 6.2 percent to 1.61 million units in April, the China Passenger Car Association said on its website on Friday, the slowest pace of growth since November.
Automakers from Honda Motor Co to Volkswagen AG are giving discounts to shore up sales, with BAIC Motor Corp predicting that a price war and falling profit margins will become the norm in China. Global automakers have been under pressure from Chinese brands, which have gained market share by offering cheaper SUVs in the fastest-growing segment of the market.
"The price cuts are a definite factor boosting sales," said Han Weiqi, a Shanghai-based analyst at CSC International Holdings. "The discounts are especially helpful for vehicles in the mid-priced market."
China's total vehicle sales will expand less than the 7 percent forecast projected at the start of the year, the China Association of Automobile Manufacturers said last month.
Vehicle registrations are being affected by slower economic growth and more cities imposing restrictions, said Dong Yang, the association's secretary-general.
Sales of SUVs surged 56 percent, multipurpose vehicle deliveries climbed 20 percent, and demand for sedans fell 6.6 percent, according to the association.
Chinese consumers' willingness to purchase cars declined last month to the lowest level since December, according to a monthly survey conducted by MNI Indicators.
Buyers looking for their first car were even less inclined to shop for one last month, with the number of respondents planning to do so plunging to the lowest level since July, the survey found.
China's passenger vehicle market is showing signs of stress, especially in pricing, and consumers can expect lower retail prices as incentives escalate, according to a May 5 report by Yang Song, a Barclays Plc analyst.
General Motors Co reported a decline in deliveries in China, its largest market, after demand slumped for its Buick and Chevrolet brands.
Ford Motor Co's deliveries were little changed while Nissan Motor Co recorded a 19 percent drop in sales, citing competition for compact passenger vehicles and sluggish demand for light commercial vehicles.