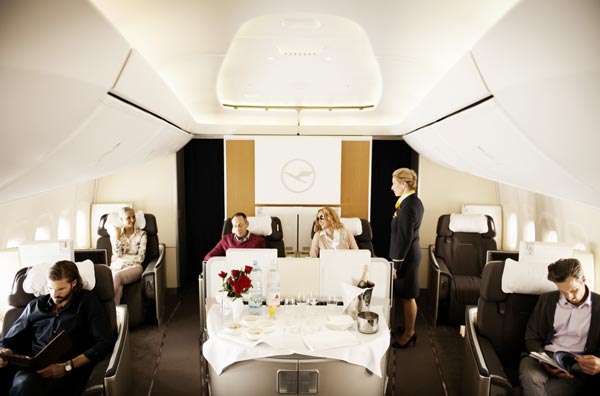 A cabin in Lufthansa's premium economy class. The service is provided on 30 long-haul routes. [Photo/China Daily]
With consumer preferences changing rapidly due to the economic slowdown, many carriers are now cutting first class seats and introducing a new class viz premium economy to cater to more customers, industry experts said.
In terms of price, comfort and amenities, the premium economy is placed somewhere between the economy and business classes. It, however, has wider seats, more leg room, more luggage allowance, bigger entertainment screens and a slightly more personalized service.
Qatar Airways Group, a leading Gulf-based carrier, plans to offer first class cabins only on its A380 aircraft in future, said Akbar Al Baker, CEO of the group. The carrier's other aircraft, including wide-bodies such as Boeing787 and Airbus 350, will only have business cabin. "It will be a global tendency and other airlines will follow us," Al Baker told China Daily.
Declining load factor has been the prime reason why most carriers are jettisoning first class seats, an erstwhile cash cow.
Statistics from the International Air Transport Association show that the global passenger traffic in first and business class sections grew by just 2.6 percent in January compared with the levels in January 2014.
"In Europe, the 'two cabins' (first and business class) market was more stagnant with only 1 percent year-on-year growth in January," said the IATA report.
The downturn occurred from August 2014, as the economy in China and the eurozone started nose-diving, IATA said. On the other hand, the smaller difference between first and business class seats has also led to cancellation of first class seats on some carriers.
"Services in our business class section have improved tremendously during the past few years," said Juerg Christen, managing director of Lufthansa Airlines in China.
Although Lufthansa will continue offering first class on most of its long-haul fleet, it will "evaluate each route and demand structure to decide whether to operate first class to the respective destination or not", said Karl Ulrich Garnadt, CEO of Lufthansa Passenger Airlines.
Cathay Pacific Airlines maintains first class cabins only on routes to big cities, such as Beijing, Shanghai, London and Frankfurt, and reduced the number of first class seats from 12 to eight, said Paul Loo, general manager of the carrier's China branch.
Meanwhile, many carriers have opted to install the fourth cabin, or the premium economy class, to sustain revenues. Lufthansa launched its first flight with premium economy class in October and currently offers it on 30 long-haul routes.
The premium economy class will cover all intercontinental flights of Lufthansa from the end of this year, said Garnadt.
The average load factor of Lufthansa's premium economy class is around 80 percent at present, said Annette Mann, Lufthansa's director of launch management premium economy class, adding that the new class is more closer to the economy-class rather than the business class,
"We positioned it in such a way that we want passengers to upgrade from the economy class," said Mann.
Some Chinese carriers have also introduced premium economy class in their flights, although experts cite the government's ongoing anti-corruption campaign as the motivator for it. China Southern Airlines Co Ltd, the largest carrier in China in terms of fleet, introduced the premium economy class in its fleet as early as 2010, and dropped the first class in narrow-body aircraft flying on domestic routes as of Oct 26, 2014.