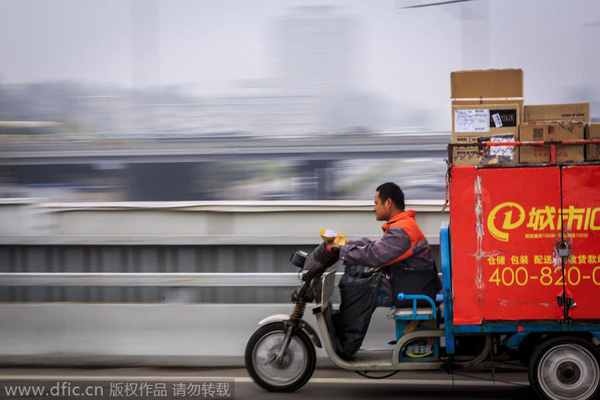 A courier en route to deliver packages in Beiing, Oct 11, 2014. [Photo/IC]
CHANGCHUN - Each morning at 8 am, Wang Kexin puts on his helmet and leg guards and hops on a motorcycle to begin his workday.
The 31-year-old goes door to door through villages in Maolin township in Northeast China's Jilin province to deliver goods local villagers have purchased online.
Wang is among scores of rural couriers providing badly needed door-to-door service in areas where a lack of roads makes mass delivery unfeasible.
"If we didn't deliver the goods, those living in remote villages would have to go a long way to fetch their parcels in town, which is troublesome and time-consuming," Wang said.
Chinese e-commerce is booming, with the online retail trade volume increasing 49.7 percent year on year to 2.8 trillion yuan ($450 billion) in 2014. The popularity of online shopping is expanding to the countryside, according to a report published in late 2014 by a research center under Alibaba Group, which showed that the rural online market reached 180 billion yuan in 2014. By 2016, it is expected to hit 460 billion yuan, the report said.
Wearing his signature sunglasses, Wang sets out on a 140-km delivery tour each day. It can take eight to nine hours to deliver around 30 parcels to the hands of Maolin residents. Constant riding in the wind has led to eye problems, and Wang wears the sunglasses to protect his vision.
The job, though difficult, has proved worthwhile as the service is extremely popular among villagers.
"I do a lot of online shopping for myself and my unborn baby," said Li Yue, a pregnant woman in Maolin. "If it were not for Wang, I would have a lot of trouble getting all these things home," she said.
Zhao Fengwu, a resident of Taiping village in another Jilin township, said the courier services keep her life organized.
"Thanks to the couriers, I always get my medicine on time to treat my high blood pressure," Zhao said.
Riding the wave of e-commerce success, courier companies are expanding their businesses in rural China to take advantage of the huge potential market.
In October, e-commerce juggernaut Alibaba announced a plan to invest 10 billion yuan to build 1,000 county-level operation centers and 100,000 village-level service stations to tap the rural e-commerce market in three to five years.
Jingdong, another leading online retailer, said it has set up more than 100 county-level service centers covering more than 10,000 villages.
"Rural e-commerce is definitely the way to go," said Wang Hongyu, a courier company employee in Jilin's Panshi City. "It's a huge market, and we cannot afford to ignore it," he said.