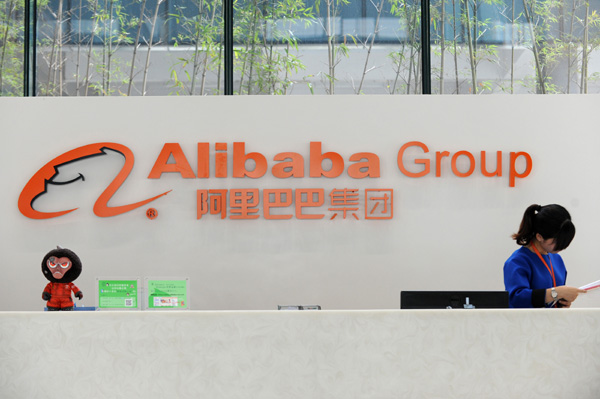 A receptionist works at Alibaba's headquarters in Hangzhou, capital of East China's Zhejiang province, in this Jan 30, 2015. [Photo/Xinhua]
SHENYANG/ZHENGZHOU - China's vast rural regions will brace for an era of rapid development driven by e-commerce and national policies to boost farm production.
E-commerce giant Alibaba Group signed an "Internet plus rural area" agreement on Tuesday with the Commerce Department of the central province of Henan to implement a plan to develop rural e-commerce.
Alibaba chose Mengzhou city in Henan as its pilot project to build county and village-level service centers or stations for developing rural e-commerce. The project will cover 15 to 20 county-level areas by the end of this year.
Henan, which promises a vast market with its population of 100 million, is one of seven provinces where Alibaba plans to launch rural e-commerce projects this year.
China is promoting large-scale farming via transfer of management rights of rural land and development of new agricultural businesses. The reform has made the agricultural sector more attractive to industrial and commercial capital.
E-commerce not only provides rural residents much easier access to industrial products, but has also become an important channel for the sale of agricultural produce.
"The golden era of investment in agriculture has come," said Chen Shaopeng, senior vice president of Legend Holdings Ltd., at the Annual Summit of China Green Companies, held in Shenyang, capital of Liaoning province in northeast China. The summit, which brought together domestic entrepreneurs, aims to promote sustainable economic growth.
In 2012, Legend Holdings, parent company of Lenovo Group, China's leading personal computer maker, founded the subsidiary Joyvio Group for modern agriculture investment and business.
In March, Legend Holdings invested in an online agricultural materials trading platform following its strategic investment in a rural-oriented peer-to-peer (P2P) lending platform at the end of last year.
Another e-commerce platform, www.chinagaili.com, signed cooperation contracts with more than 500 farmers and sold agricultural produce worth 20 million yuan ($3.2 million) last year, according to Zhao Keqian, general manager of the company.
With its own quality control measures, the company can guarantee the safety and price of products, said Zhao.