A "new normal" will not only dominate the shift in China's economic structure, but also reshape the supply chains of the world's second-largest economy, said Deloitte in its latest report.
Internet technology and logistics express services are its main driving forces, pushing innovations in retail e-commerce, auto industry, and manufacturing sectors, according to the accountant and consultancy firm.
Here are seven trends on how China's supply chains are likely to evolve in 2015, based on Deloitte's predictions.
1. E-commerce will transform logistics market
While creating crucial business opportunities, e-commerce platforms are a major threat to the livelihood of traditional logistics players, said Deloitte.
With e-commerce giants such as JD.com, Suning and Alibaba developing their own logistics platforms, leading express firms are also breaking boundaries by "eating their lunch" and picking up e-commerce-delivery packages.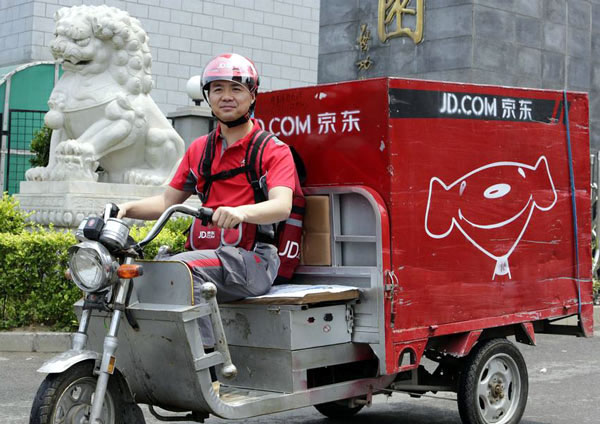 Liu Qiangdong, CEO and founder of JD.com, rides an electric tricycle as he leaves a delivery station to deliver goods for customers to celebrate the anniversary of the founding of the company, in Beijing, June 16, 2014. [Photo/Agencies]