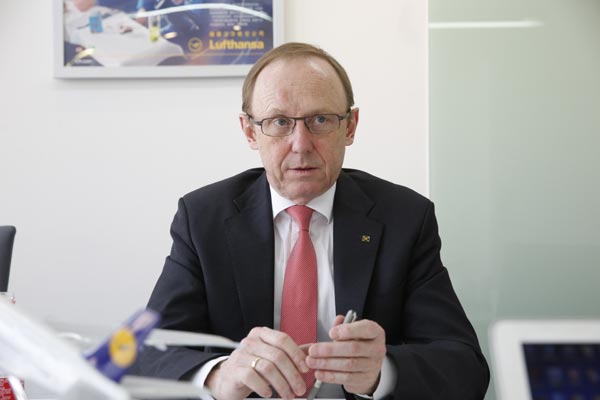 Karl Ulrich Garnadt, chief executive of Lufthansa Passenger Airlines, believes that China, expected to be the world's largest aviation market by 2030, will ultimately be the sweet spot for Lufthansa. [Photo/China Daily]
Lufthansa views China as key growth opportunity as market heads to the top
Karl Ulrich Garnadt, chief executive of Lufthansa Passenger Airlines, knows that his toughest challenge is to shepherd the carrier through inclement and good weather onto the path of sustainable growth and profits.
But that challenge looks easier said than done, considering that the Germany-based carrier has been at the receiving end after the deadly crash of a jet belonging to low-cost carrier Germanwings in the French Alps, even as it battles tough competition from rivals on other routes.
Garnadt, however, feels that the recent turbulence notwithstanding, the airline has an impeccable reputation with customers and has been at the forefront of aviation innovation. He says that Lufthansa has already started to reap rewards from its initiatives like cutting costs, investing in new aircraft and new customer products such as the premium economy class.
The chief executive believes that China will ultimately be the sweet spot for Lufthansa, considering that the nation is set to become the largest aviation market in the world by 2030. China is currently the second-largest global aviation market and during the first 11 months of 2014, passenger turnover on international air routes from China grew by 14.5 percent over the corresponding period in 2013, according to data from the Civil Aviation Administration of China.
Garnadt said though several global carriers are making a beeline to China due to the strong growth in air traffic, especially on the international routes from China, Lufthansa is on a strong perch. The German carrier was one of the first European aviation firms to start flights from China. It along with its units like Austrian Airlines and Swissair operate 83 flights to China every week.
"Lufthansa recognized China's great potential about 89 years ago and has overcome all the technical and geographical obstacles to successfully operate flights to China," said Garnadt, who has spent about 36 years with the carrier in various capacities ranging from commercial airline trainee to member of the executive board of Lufthansa Group.
But competition on the China-Europe routes is heating up, as Chinese carriers are upgrading their products and fleets to Europe. "Their (Chinese carriers) recent growth in terms of fleet size is indeed impressive," Garnadt said, adding that Chinese airlines' onboard services have improved a lot and are on an absolutely competitive level.
This is a sea change, considering that in the past several years Chinese carriers were more like partners, rather than rivals. Lufthansa, on its part, has chosen to deepen its cooperation with Chinese carriers, which allows the Cologne-based carrier to share a piece of the pie.