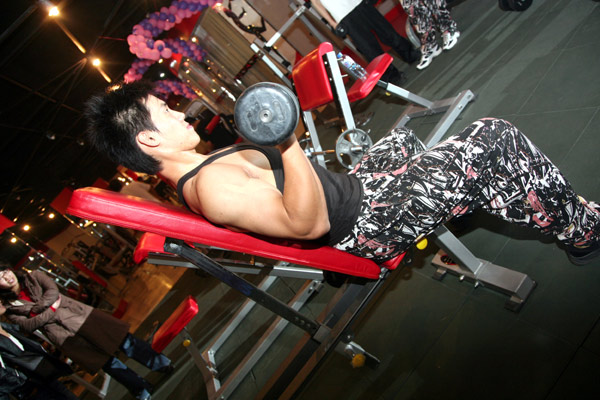 A man exercises at a gym in Beijing. China's ongoing battle with pollution has also encouraged more people to stay indoors to exercise, with many gyms installing air purifiers to lure consumers. [Photo provided to China Daily]
Industry expands as an increasing number of Chinese people opt for healthier lifestyle
Even when she was in her 20s, Tiffany Tang says she never felt so full of energy and healthy.
Since starting to jog with her family and friends over the past two years ago, she has slept better and her muscles have become tighter.
"I get up really early in the morning, and sleep early at night," says Tang, now 36, who used to be a night owl.
She runs three times a week on average at the Olympic Park in Beijing, twice covering 8-15 kilometers, and once between 25 and 30 km.
When the air quality is poor, she stays in the gym to work on her muscle tone.
Exercising has also brought her a new circle of friends, she says, meeting fellow runners via instant messaging platform WeChat and the microblog Weibo, where knowledge and information on how to run properly are exchanged.
Last year Tang completed the Beijing marathon, and her medal is now a prized possession.
"Exercising has become a hobby. Sometimes keeping it going is grueling. But I feel worse if I don't run," she says.
Tang is among a new wave of Chinese who have been actively participating in sport and exercise since 2008-Olympic year, and a peak for people taking a more active lifestyle.
According to recent research by the Mintel Group Ltd, more than seven out of 10 people in China say they are now eating a healthier diet and exercising more.
The study shows that 56 percent of participants said they thought good health was the key to achieving personal goals. Thirty-nine percent said it helped their financial situation, and 21 percent felt they had a better social life because of it.
The appetite for a healthier lifestyle has also seen a surge in the number of people joining gyms and sports clubs.
Adam Zhang, founder of the Key-solution sports consultancy, says: "Gym chains have been aggressively opening more outlets and they are really positive about the market's potential."
The gym sector had seen a slump in interest, after too many opened, often badly run, following the euphoria of the 2008 Beijing Olympic Games.
Many closed, but Zhang says quality has been vastly improved, and the market is growing steadily again.
"As it has warmed up again these chains having been grabbing the opportunity to grow."