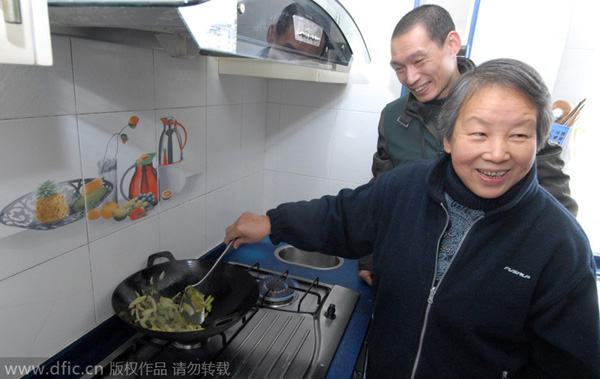 A Chinese dama cooks in her home, Fuzhou city, East China's Fujian province, March 9, 2009. [Photo/IC]
Chinese dama (middle-aged housewives) can become the world's model energy savers if only they spend less time at the kitchen stove.
A survey has found that, on average, Chinese homes spend as much as 4.5 times the amount of energy on cooking meals as German or British homes, or about 2.5 times the amount used in French homes.
Preparing stir-fry dishes with high-temperature oil or boiling meat overnight uses far more energy than merely mixing salads and reheating packaged food in micro-waves, the survey by Beijing's Renmin University of China concluded.
Each stove in the kitchen of a Chinese home is used on average more than two times a day and for 32 minutes on average each time, the survey found.
More than 70 percent of electric cookers and more than half of microwave ovens are used at least once a day in China, according to the survey.
However, in overall terms, homes in developed countries still consume more energy than those in China.
Cooking ranks next to heating in China's home energy use, according to the survey, which was aimed at finding out the amount of energy used in an average home for cooking, heating, cooling and other purposes.
Wang Xiao'ou, 43, a working mother in Beijing, said: "The survey is reasonable. The pace of city life is fast, and we don't have time to spend hours cooking porridge and soup like our mothers did. But I usually still spend an hour on cooking each day."
Chinese homes spent about 327 kilograms of standard coal equivalent on cooking in 2010.