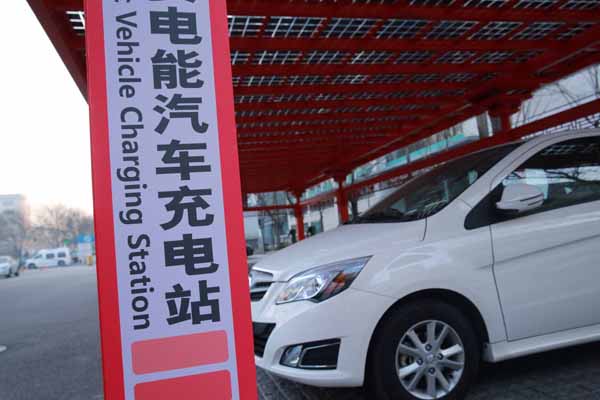 A car sits at the first solar energy charging station in Beijing. The city has built 1,500 public charging facilities and plans to have 10,000 by the end of 2017. [Photo provided to China Daily]
Government and businesses improve charging network for green alternative
New-energy vehicles, especially purely electric models, will see increased development in 2015 now that the government and businesses are exploring new roads to improve the charging network.
Statistics from the China Association of Automobile Manufacturers show that China sold 74,800 new-energy vehicles in 2014, 3.2 times more than sold the previous year. New-energy vehicles include purely electric, plug-in hybrids and fuel cell models.
Experts believe that sales in 2015 will surge even higher as it becomes easier to charge newenergy vehicles.
Local authorities in Beijing have built 1,500 public charging poles, with 60 percent located within the fifth-ring road. They said the number of charging poles would rise to 10,000 by the end of 2017.
The capital's reform and development commission said it is inviting private capital to join the effort by offering subsidies to those who build charging facilities for public use.
The government in the neighboring city of Tianjin is also working hard to promote the development of new-energy vehicles.
"We have set up a 'green' channel at State Grid offices for those who would like to install their own charging poles," said Qi Peng, an official at the city's Science and Technology Commission, in an interview with China Daily at the just concluded Global New Energy Vehicle Conference.
He said the government is offering free licenses to newenergy vehicles and considering promulgating regulations on building charging facilities in newly built communities.
Qi said local authorities are also exploring a business mode that would ensure profitability of the charging facilities so private companies will play a bigger role in infrastructure building.
As the charging network expands, Qi believes the number of new energy vehicles in Tianjin will rise to 120,000 in 2015. It had 2,100 such vehicles at the end of 2014.
Automakers are showing more enthusiasm for newenergy vehicles.
Premium carmaker Audi announced that it will produce plug-in hybrid versions of its popular A6L at FAW-Volkswagen plants this year. And its archrival BMW unveiled a plug-in hybrid, 530Le, last month in Shanghai.