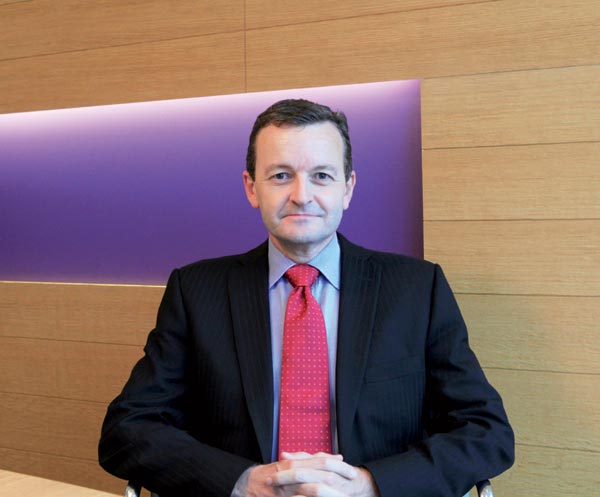 Stuart Fuller, global managing partner at King & Wood Mallesons, thinks that major opportunities for foreign companies in China now exist in consumption-based sectors, like financial services. [Cecily Liu/China Daily]
The growing competition for China's limited pool of highly skilled workers and the country's new stringent regulations are creating major obstacles for foreign companies in China, says Stuart Fuller, global managing partner at King & Wood Mallesons.
"You have to step back and look at the profound changes happening across China economically, in a government sense and in society," says Fuller, who added that many of the challenges facing foreign enterprises today were hard to imagine five years ago.
A report by the global law firm last month, called Doing Business in China, quotes a 2013 survey by the American Chamber of Commerce in China that says labor costs and a shortage of qualified employees continue to be the key challenges for foreign businesses.
That is a far cry from 2009, when the top concerns were more basic issues, such as having the know-how to obtain the right licenses and getting to know the domestic markets.
Fuller, who became global managing partner in 2012 as a result of the merger between the Chinese law firm King & Wood and the Australian law firm Mallesons, says foreign businesses need to find flexible and innovative ways to adapt to China's evolving markets.
The growing challenge of finding highly skilled workers in China is something that Fuller himself recognizes on a daily basis. This issue, he adds, is particularly important in the services sector.
The ideal employee in the service sector is not one who simply learns how to do business the Western way from their Western manager, but is able to lead a China market strategy using an understanding of the domestic market, Fuller says.
"Many Western companies went to China five years ago, trying to run their businesses with their own people, but now they're saying, 'you can't fly in expats to run the China operation when they don't understand how to do business there. It just won't work,'" he explains.
This changing attitude has created a demand for Chinese employees who have an understanding of both Western businesses and the Chinese market. This group of people is also increasingly sought after by Chinese businesses as they look to expand abroad, he says.
But this rapid surge of demand far outweighs supply. China's talent pool is only just beginning to internationalize. It is important for foreign businesses to help cultivate young Chinese talent through secondment plans in which employees explore different career possibilities by temporarily changing roles within the same company. Fuller says King & Wood Mallesons often emphasizes this system at the firm.