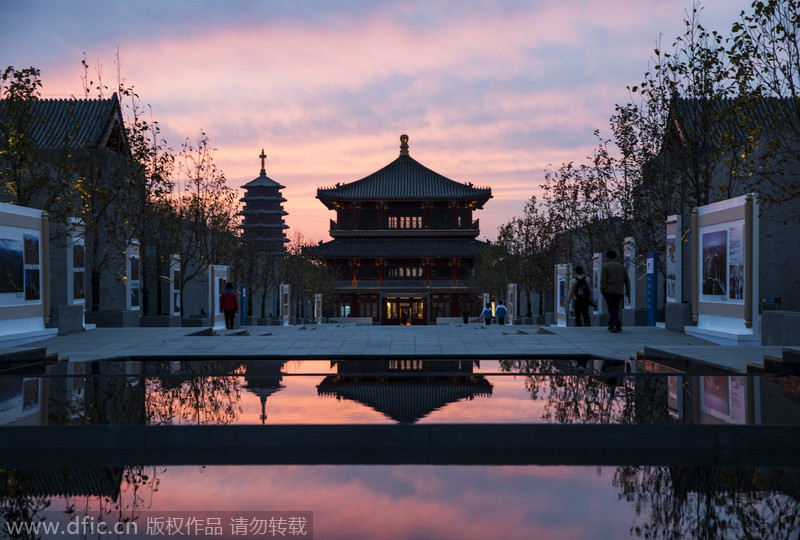 A pagoda is silhouetted against the sunrise at the APEC Summit venue at Yanqi Lake in Beijing, Nov 11, 2014. [Photo/IC]
Beijing's Yanqi Island, the host site of this year's APEC meetings, opened to the public on Thursday.
The islet on the scenic Yanqi Lake is the site of an international convention center where Chinese and foreign top leaders met during the 2014 APEC Economic Leaders' Meeting in November.
The event has made the site the latest must-see in Beijing, with its around-the-islet boat trips particularly popular among tourists who hope to gain a view of the APEC venue.
The islet has opened the convention center and the surrounding gardens, while the VIP villas and the Yanqi Pagoda are not yet available for sightseeing, according to the lake's operators.
The islet will only be open from Wednesday to Sunday, with the daily number of tourists capped at 400 people. Visitors must book tickets in advance via phone or the lake's website.
Yanqi Lake, located in the suburban Huairou District in northeastern Beijing, has undergone an overhaul since 2013, when it was chosen to host the APEC meetings.
APEC, short for Asia Pacific Economic Cooperation, is a summit for leaders of its members, including the United States, China, Japan and Russia, to discuss economic development of the Asia-Pacific region.
This year's APEC meetings featured meetings between Chinese President Xi Jinping and visiting US President Barack Obama and Russian President Vladimir Putin, among others.