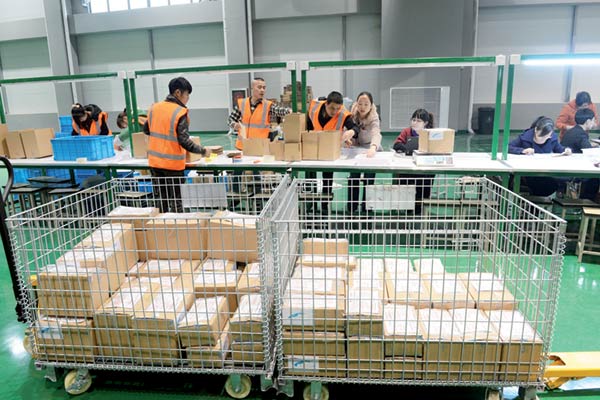 Workers pack goods for delivery in a warehouse in Ningbo free trade zone. [Provided to China Daily]
BEIJING - When Cao Lina finally finishes the online payment on the website of US chain store Macy's, she knows the pair of boots from a Christmas promotion is her last purchase of 2014.
"I've spent more than 31,000 yuan ($5,000) this year - it's mostly 'haitao' (buying goods online from overseas)," says Cao, 31, an accountant in Beijing. She started to haitao in 2012, and this year she's bought a handbag from England, milk powder from Australia, honey from New Zealand and cosmetics from Japan.
She is among a fast growing number of Chinese online shoppers, most of them young, well educated and eager to buy foreign goods that are unavailable or exorbitantly priced in China. They are a multi-billion-dollar and still booming market for global e-retailers.
Trillion-yuan potential
A report in September from market research company Nielsen said 18 million Chinese spent 216 billion yuan by haitao in 2013. It estimated the value would reach 1 trillion yuan in 2018 and the number of buyers 35.6 million.
According to Internet industry consultancy iResearch, China's total online shopping sales hit 691.41 billion yuan in the third quarter of 2014, up 49.8 percent from the same period last year. The year's total cross-border e-commerce - inbound and outbound - is forecast to grow 30.6 percent from 2013 to reach 4 trillion yuan, accounting for 14.8 percent of total foreign trade.
China's Ministry of Commerce forecasts cross-border trade by e-commerce companies in China will be worth 6.5 trillion yuan in 2016.
Policy support
The impetus comes from the government. In August 2013, China's State Council issued a policy to support cross-border e-commerce, with six concrete measures to facilitate processes, including Customs clearance, quarantine inspection, duties and foreign exchange.
To date, six cities - Shanghai, Hangzhou, Ningbo, Zhengzhou, Guangzhou and Chongqing - have designated import e-commerce pilot zones, where foreign goods can be stored in bonded warehouses before Customs clearance.
According to tax regulations in those cities, each order under 500 yuan ($82) is duty-free, and each order from 500 to 1,000 yuan incurs a 10 percent tariff, compared with ordinary imported goods being taxed around 40 percent on average.