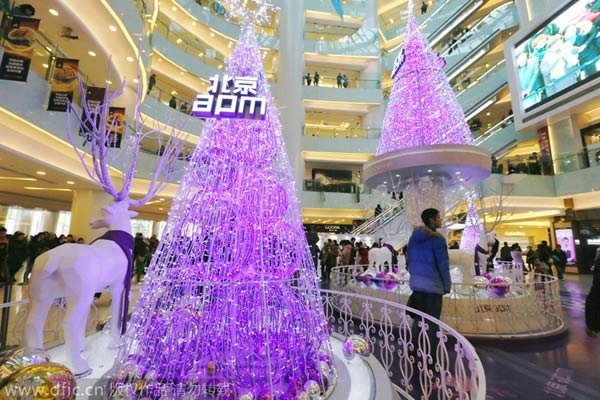 People walk past Christmas trees on display at the apm shopping mall in Beijing, China, Dec 20, 2014.[Photo/IC]
While many people in China got ready to celebrate Christmas Eve on Wednesday, decoration sellers said they had found it hard to enjoy the festive atmosphere after noticing a serious slump in business, which many blamed on the ongoing anti-corruption campaign.
At Laitai Flower Market in Beijing, for instance, store holders said they had just started to enjoy significant rises in sales in recent years, as the popularity of Christmas-not traditionally a popular festival in China-grew among young people particularly.
The government's crackdown on corruption, however, has meant a marked fall this year in sales of gifts and decorations, owners said.
Xinhui Christmas Decorations, one of four decoration stores opposite the market, has been run by its owner Luo for a decade, but he says the last two years have been hard, adding there were previously 16 stores operating nearby.
"Sales of Christmas ornaments from my store have declined more than 40 percent this year," said Luo. "The fall accelerated suddenly last year as big clients such as five-star hotels and clubs cut their purchase by half."
"Maintaining our sales looks like an impossible mission, despite cutting our prices again and again this year," said Luo, who was busy shutting up shop on Christmas Eve.
Luo remembered selling Christmas trees for 600 yuan ($96.5) five years ago. "But today I find it hard to sell one even for 200 yuan".