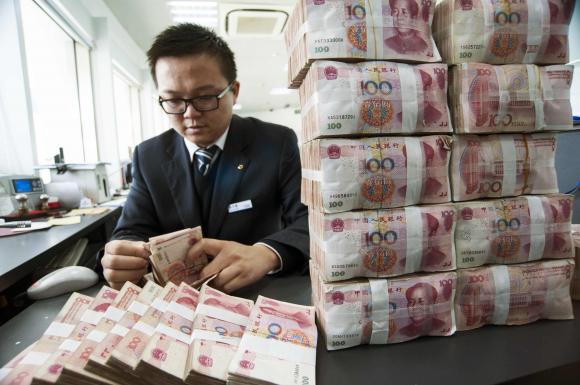 A clerk counts Chinese 100 yuan banknotes at a branch of China Construction Bank in Nantong, Jiangsu province, Dec 2, 2014. [Photo/Agencies]
Chinese investment banks have awarded pay rises to their staff for the first time since the 2008 global financial crisis, buoyed by a surge in China-related deals, but salaries and bonuses still trail far behind those paid by Western banks.
Chinese investment banks traditionally baulk at paying outsized salaries, though some are just as profitable as Wall Street rivals. They were especially frugal in the lean years after the crisis, but this year's boom has finally loosened their purse strings, headhunters and compensation experts say.
"This is the first time since 2009 we have seen an increase of base and total compensation," said Maggy Fang, managing director for executive compensation in Asia Pacific at human resources consultancy Towers Watson.
Chinese investment banks raised bonus payouts by an average of around 12 percent this year, while base salaries for the sector rose by about 6.5 percent, according to Towers Watson. Overall, total compensation levels at Chinese investment banks rose 9.2 percent in 2014.
Bonuses are expected to rise again in 2015, said Fang, though she did not give a figure.
Pay levels at China's investment banks have a long way to go to catch up to those at international firms. Chinese banks pay around half as much as their Wall Street rivals in terms of base salary, say headhunters.
Even top Chinese banking roles pay a relative pittance compared with global firms.
Jiang Jianqing, the chairman of Industrial & Commercial Bank of China, takes home around $326,000 in salary, bonus and benefits, according to the bank's 2013 annual report, while a managing director at a Western investment bank in Hong Kong can expect to make up to $450,000 in base salary alone.
Still, the bump in Chinese pay marks a turnaround for a sector that has seen total compensation fall heavily over the past four years, according to Christian Brun, a founding partner at executive recruiting firm Wellesley Partners in Hong Kong.
Booming
Despite a slow-down in the Chinese economy, investment banking business has been booming. China-related deals in equity capital markets surged 69 percent in the first 11 months of the year compared with the same period in 2013, while M&A deals jumped 77 percent, according to Thomson Reuters data.
Chinese banking culture is typically more conservative when it comes to pay, and there are restrictions on the use of stock incentive plans, a common feature of Western bank compensation.
But that is slowly changing: Chinese banks are providing additional benefits such as retirement plans, heathcare, and cash allowances, according to Towers Watson's Fang.
Beijing may also be softening its line on incentive programs, as it looks to professionalise State-owned firms.
Privately owned Minsheng Bank this year became the first Chinese commercial bank to offer share incentives to employees as part of a broader pilot program, with other banks expected to follow suit pending regulatory approval.
"With potential revisions in the law, we see some intent to introduce equity incentive plans in the future," said Fang.