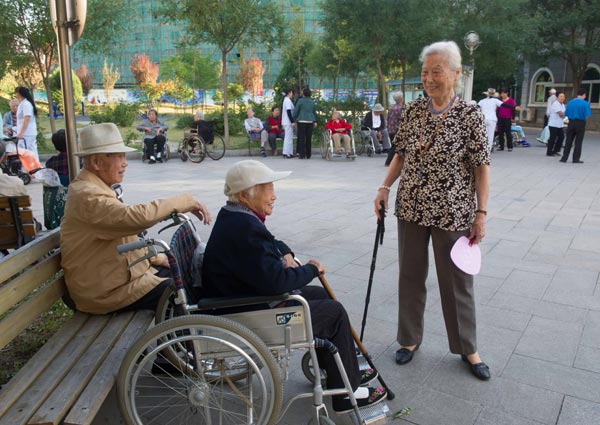 Senior citizens chat at a retirement home in Beijing. [Photo/Xinhua]
BEIJING -- About 40 million members of government, Party, and public institution staff will be affected by the reform of China's pension system.
China's Vice-Premier Ma Kai on Tuesday reported on the social security system at the ongoing bi-monthly session of the National People's Congress (NPC) Standing Committee, saying the basic idea is a pension system for public employees with the same qualities as those urban retirees from enterprises.
Changes to occupational annuities and the salary system will be made simultaneously nationwide, Ma added.
China has the most public employees in the world. As the population is expected to reach 1.43 billion in 2020, the State Council wants a pension system that covers the whole population.
Ma said the government hopes to cover 900 million people by 2017, and 1 billion in 2020, raising the coverage rate from the current 80 percent to 95 percent.
In the past two decades, China's public pension systems used different methods of payment, accounting and management, which resulted in widespread disputes.
The monthly pension for retired civil servants and staff in public institutions were 2.1 and 1.8 times the common pension level of 1,900 yuan, according to the the Ministry of Finance's fiscal science research institute.
Private urban employees pay for their pension before retirement and usually get a pension equal to about half of their final salary, but public workers get much more without making any financial contribution at all.
Background of reforming pension system
The aim of the pension reform is to build a system for the Party, government and public institutions that is similar to the one employed by the private sector so as to break the long-held dual system.
Under the dual pension system, the employees in a state agency can get 80 to 90 percent of their salary after retirement while the employees of an enterprise may only get 40 to 60 percent.
It means the pension of 37 million public servants and employees in state agencies in China will not be provided fully by the government and will have to contribute the same amount to their pensions as employees do in enterprises.
Pension reform has been stuck in the past few years as pilot programs in places, including Guangdong province and Shanghai municipality, have come to a standstill after they were launched in 2008.