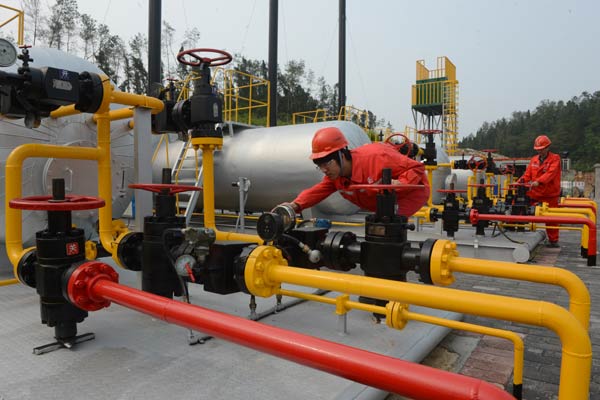 Technicians check shale gas transport facilities in Chongqing. China is believed to possess the world's biggest estimated technically recoverable shale gas resources.[Provided to China Daily]
The national oil companies, which dominate the industry in China, will benefit the country's shale gas development over the longer term as the world's second-largest economy seeks to reduce its dependence on imports, an energy expert said.
Melissa Stark, managing director of consultancy Accenture Plc's new energy business, said that several factors-including geology, land access, technology and talent-must be considered when assessing the viability of unconventional energy projects.
"Shale gas development is very different from country to country. For China in particular, the participation of national oil companies can lead to more promising results for the industry because those companies have longer-term plans, huge investment ability and other advantages in terms of operations," said Stark.
She made the comments during a visit to Beijing in November to launch the firm's report on the international development of unconventional energy resources.
The United States has become increasingly independent in terms of energy resources through the shale gas revolution. It is using new technologies such as horizontal drilling and hydraulic fracturing (fracking) to access previously unavailable reserves.
Now, other countries such as China are considering whether they can also succeed in developing unconventional energy resources.
The Accenture report said that China, which may have significant development in shale in five to 10 years, should adapt the available technology to local characteristics.
"People used to believe that national oil companies are a bad thing for the shale gas industry, because a monopoly leads to lower efficiency and a less active market. But we don't see it that way," said Stark.
China is believed to possess the world's biggest estimated technically recoverable shale gas resources, according to the report.
The biggest challenges in China for the shale sector are the ability to gain access to resources and deliver them to consumers. These challenges relate to terrain, population density and water scarcity. It is easier for national oil companies to address these challenges than it is for private companies because they have experience working building infrastructure in China and with local communities to find compromises and solutions, she said.
"A long-term view is a must for the shale gas industry because huge investment is required. There are needs for a certain well density to understand the technology that works the best and to get the scale efficiencies required to drive down costs. National oil companies are in the markets for a long-term, so are better placed to take this long-term view of risk and return. "
Many private energy companies lack the financial resources to handle the risks.
According to CITIC Securities Co, the nation's cumulative investment in shale gas development totaled 20.7 billion yuan ($3.35 billion) as of July 2014. The two major national oil companies-China National Petroleum Corp and China Petrochemical Corp (Sinopec Group)-accounted for more than 90 percent of the total investment.
Up to 98 percent of the nation's shale gas output has come from those two companies. Private enterprises that won exploration licenses are still at the preliminary prospecting stage, said the report.
Stark also pointed out that the central government's guidance and control over the national oil companies when it comes to shale development can avoid duplication of effort, which leads to higher efficiency.
"The US has a much more open market in shale gas development with thousands of companies participating in different sectors of the production chain. It has advantages, but this also results in much duplicate infrastructure," she said.
To meet the Chinese government's ambitious target of producing 30 billion cubic meters of shale gas annually by 2020, the two leading national oil companies have been accelerating projects in the Sichuan Basin, the country's biggest shale region.
Sinopec is the biggest shale gas player in China, with total output of 1 bcm as of Oct 31. The company's Fuling block will reach an annual capacity of 10 bcm by 2017.
To catch up with its counterpart, CNPC has invested heavily in the Sichuan Basin under cooperation agreements with local governments and both domestic and foreign companies. The company said it has 40 wells in production with total output of about 200 million cubic meters so far. The company is targeting annual output of 5 bcm in 2017.
One challenge all companies in China face is that the nation's geology is very different from that of the US, which means that technology must be adapted, said Stark.
She said that although leveraging foreign technology is important, Chinese companies will need to develop the technology that fits the nation's geological conditions.
Even in the US, she said, basins' geology can differ widely.