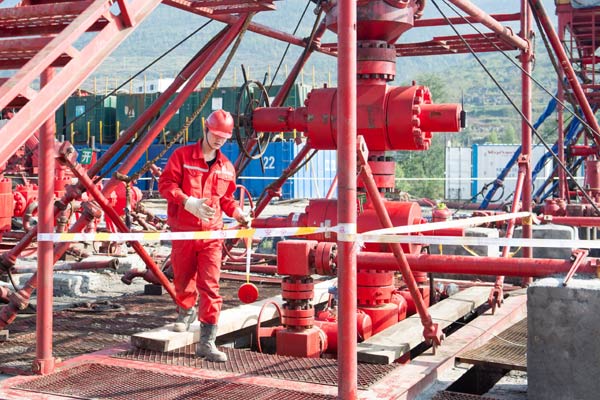 A technician inspects drilling facilities at the Fuling shale gas site in Chongqing. PetroChina Co, Sinochem Group and two State-owned enterprises have formed a joint venture to develop shale gas resources in the area. [Photo/Xinhua]
Commercial output from $4 billion joint venture set to start by 2017
PetroChina Co and three partners will invest more than $4 billion to drill for shale gas in China's most productive shale fields.
PetroChina has joined Sinochem Group and two local State-owned enterprises to form the venture in the southwestern municipality of Chongqing, according to a statement on the city's website on Wednesday. The project will start operations by the end of the year and begin commercial production in 2017.
Chongqing holds more than 2 trillion cubic meters of exploitable shale gas, according to the municipal government. So far, most of its development has been centered on the Fuling site, run by the second-largest oil company, China Petroleum & Chemical Corp.
The Ministry of Land and Resources estimates the nation's reserves at about 25 trillion cu m, the world's largest.
The venture should "substantially increase shale gas exploration in Chongqing" to the benefit of all partners and the local economy, said Sun Zhengcai, Chongqing's top official, according to the Chongqing Daily, the city's official newspaper.
PetroChina owns 40 percent of the new project. Chongqing's State Development and Investment Corp, Sinochem and the Chongqing Institute of Geology and Mineral Resources hold 39 percent, 20 percent and 1 percent, respectively, according to the 21st Century Business Herald newspaper.
The venture plans to drill 16 test wells and 360 production wells for an investment of 26.05 billion yuan ($4.2 billion). It will explore an area of 15,600 sq km, about 50 times larger than the Fuling block, the newspaper said.
China should surpass its 2015 shale gas output target of 6.5 billion cu m, Yue Laiqun, a ministry researcher, told a conference in Beijing on Wednesday.
But that would be only a small portion of the goal of 30 billion cu m set for 2020, and a fraction of the 266 billion cu m produced by the United States in 2012.
Difficult geology, lack of infrastructure and limited exploration rights have held up China's shale sector.