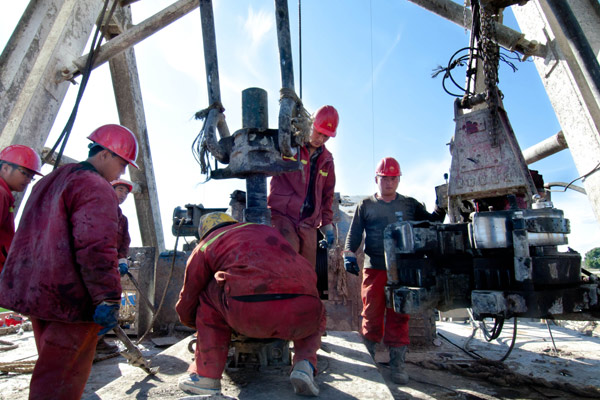 PetroChina workers set up a drill near Changchun, capital of Jilin province. The top oil and gas producer plans to sell 35 percent stakes in two of its major oilfields to private investors. [Photo / Xinhua]
Design part of giant's move to a model featuring mixed ownership
PetroChina Co Ltd, the country's top oil and gas producer, plans to sell 35 percent stakes in two of its major oilfields to private investors, in an attempt to introduce mixed ownership of its assets.
According to a report on the business news website jiemian.com on Tuesday, the Jilin and Dagang oilfields, both owned by PetroChina, are among a list of assets set to be split off.
The report said the company will announce the full reform plan in January .
PetroChina could not confirm any of the details with China Daily, adding that the company is still working on its mixed-ownership reform plan.
ICIS C1 Energy, a Shanghai-based energy information consultancy, quoted Mao Zefeng, a spokesman for PetroChina, as saying that he was not aware of the "35 percent" share split-off plan and that the company is still at the research stage of the reforms.
In addition, Mao said that PetroChina is going through the documentation process of its sale of eastern pipeline assets.
PetroChina announced in May that it would transform its First and Second West-East Gas Pipelines into a new subsidiary PetroChina Eastern Pipelines Co, which would then be sold by public tender in Shanghai. The new company is valued at 82 billion yuan ($13.1 billion).
An industry insider close to the company said PetroChina is shifting from a scale-oriented to efficiency-oriented management structure and plans to sell some oilfields with low productivity to private investors.
China has three oil giants—PetroChina, CNOOC Ltd and Sinopec Co—which dominate the country's upstream and downstream oil and gas sectors.
Sinopec, the country's biggest refiner, is considered to be the leader so far in seeing through mixed-ownership reforms.
In September, it announced it had chosen 25 investors to participate in its restructuring plan with the group of companies expected to inject a total of 107.094 billion yuan for a 29.99 percent stake of the company's sales unit.
Financial companies such as China Life Insurance Co Ltd, Harvest Capital Management Co Ltd, Qianhai Golden Bridge Fund I LP and a Shenzhen-based fund company set up by the People's Insurance of China Ltd have been confirmed as being among the list of 25.
Many private energy companies involved in refining, oil stocks and distribution, however, remain skeptical about Sinopec's reforms, saying that it is more like a gesture.
An anonymous private oil company head said that investing in Sinopec's restructuring is not in his plans because they would not be allowed any significant say in management decisions.
Fu Chengyu, chairman of Sinopec, told the media during a conference earlier this year that the authorities have put strong emphasis on the reform of State-owned enterprises.
"However, any reform is not easy," he said.