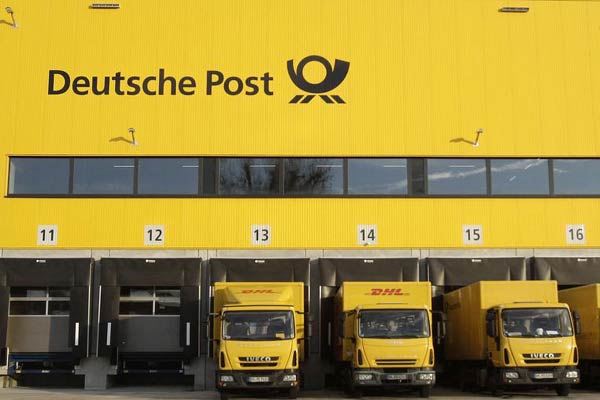 Trucks park at the new distribution center of the German postal and logistics group Deutsche Post DHL in Berlin in this Nov 12, 2013 file photo. [Photo/Agencies]
Deutsche Post DHL has set its sights on the growth potential of the logistics industry due to the electric vehicle and e-commerce boom in China, said senior officials of the company.
There are many industries in China to which DHL can contribute support, said Fathi Tlatli, president of DHL's global automotive sector.
"Electric vehicles are one of them," he said. "The company is able to deliver lithium batteries that require high-level safety standards and technology."
As the Chinese government tries to boost the electric vehicle industry in order to cut emissions and protect the environment, such vehicles have become a growing trend in the world's second-largest economy.
Rick Hanna, PricewaterhouseCooper's global automotive head, said renewable-energy vehicles will account for 5.37 percent of global market share by 2020. Production capacity will be raised from 2.52 million vehicles in 2013 to 5.87 million vehicles by 2020, he said.
"Even though the best technology for future automotive has not been decided yet, the electric power supported by batteries is still the focus," he said.
With approximately 45,000 EVs, China ranks third in the world regarding their use, after the United States and Japan.
In addition to EVs, DHL has been increasing its investment in China and looking for growth from e-commerce.
The company invested $175 million in the Shanghai Pudong airport hub two years ago and is increasing flights to China.
China's logistics industry has been developing rapidly as e-commerce giants led by Alibaba Group Holding Ltd keep expanding their businesses.
"As far as trends go, the logistics industry is continuing a shift toward emerging markets," DHL said in its Strategy 2020 report, saying that the e-commerce segment is increasing consumer demand with regard to convenience and flexibility of delivery.
But competition in the logistics industry is extremely fierce in China.
"It takes guts to enter China's logistics industry, and it takes even more to get out of it," said Jerry Hsu, chief executive officer of DHL Express Asia Pacific.
Among an estimated 35,000 local logistics companies in China, most are experiencing deficits or thin profit margins, according to Hsu.
But he said DHL would be happy to work with Chinese companies that want to expand overseas.
Ken Allen, chief executive officer of DHL Express, said: "We welcome Chinese small and medium-scale companies that want to grow overseas to cooperate with us."
According to the company, it spends about $900 million each year for its global network, which has helped DHL bring its international logistics service to countries all over the world.