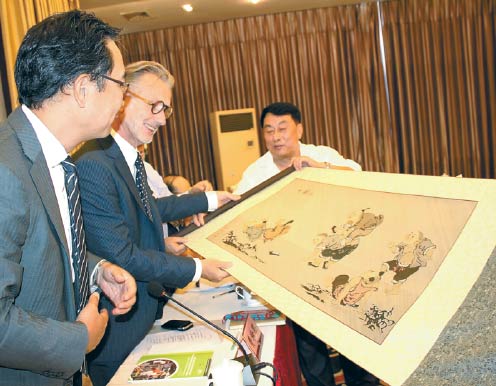 Hans Friederich (center), director general of the International Network for Bamboo and Rattan, appreciates a traditional Chinese painting made of bamboo in Yibin, Sichuan province, earlier this month. The producer of the painting has benefited from the China Sustainable Bamboo Enterprise Program. HUANG ZHILING/CHINA DAILY
Farmers' incomes rise as Foundation brings new techniques to industry
Luo Defa, a 50-year-old villager in Hengfan town in Lin'an, Zhejiang province, has earned a living by selling bamboo shoots for 25 years.
Luo is one of the beneficiaries of the Citi Foundation-funded sustainable bamboo enterprise program, which began in Sichuan after the Wenchuan earthquake in 2008 and expanded to Zhejiang province in 2013.
In 2012, he earned 65,000 yuan ($10,484) from selling bamboo shoots. Just a year later, his income had risen to 105,000 yuan after he took part in a technical training program in the town that taught bamboo farmers how to prevent pest infestations, fertilize their land and reclaim more wasteland to grow bamboo shoots.
He used to leave the bamboo plants to grow naturally and did nothing to cultivate them.
The program taught him not to sweep away fallen leaves, which fertilize and protect shoots. And he learned to bury bamboo rhizomes deeper in the ground with a mix of sawdust, rice husks and organic fertilizers to ensure faster growth.
"As a result, the yield of bamboo shoots rose sharply and so did our income," said Luo, who owns 0.6 hectare of land planted with bamboo.
The program is offered by the International Network for Bamboo and Rattan in cooperation with the Citi Foundation to increase farmers' incomes. It is part of a larger initiative - the Sichuan Sustainable Bamboo Enterprise Program, which was established after the Wenchuan earthquake.
The magnitude-8 earthquake on May 12, 2008, left 69,226 people dead, 17,923 missing and 1 million displaced.
The Sichuan Sustainable Bamboo Enterprise Program, funded by the Citi Foundation, is being carried out by the INBAR in a partnership with the Sichuan Forestry Department and Sichuan Agricultural University.
In early 2009, the program's working group visited quake-ravaged cities and counties in Sichuan such as Beichuan, Anxian, Dujiangyan and Chongzhou.
The team learned that most local farmers relied on livestock and outside labor as migrant workers to earn a living.