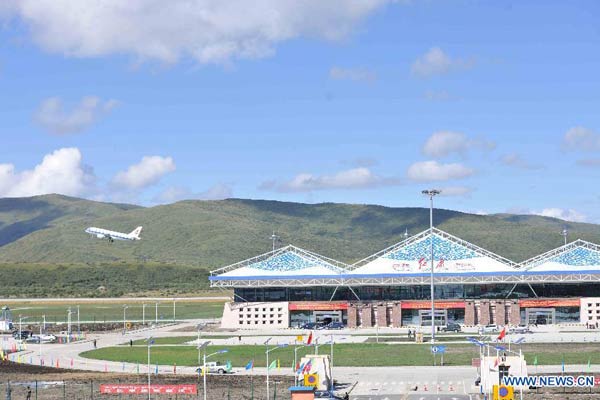 An aircraft takes off from the Hongyuan Airport in Hongyuan county of Aba prefecture, Southwest China's Sichuan province, Aug 28, 2014. The Hongyuan Airport, which locates at an altitude of 3,535 meters, was opened to navigation on Thursday.[Photo/Xinhua]
CHENGDU - Southwest China's Sichuan province on Thursday opened its fourth high-altitude airfield, which local officials hope will boost tourism in the heavily Tibetan-populated region.
Hongyuan Airport, located in Aba Tibetan-Qiang autonomous prefecture at an elevation of 3,535 meters, will operate flights cutting travel time to the local plateau prairie and Jiuzhaigou Valley, a World Heritage site famous for its colorful pools and snowy mountains, according to local officials.
Lack of transportation facilities has long troubled the province's out-of-reach Tibetan region, which includes the two prefectures of Aba and Garze and the county of Muli. Prior to Hongyuan, the province opened three high-altitude airports to link the region with the outside world.
The new airport will not only help travelers but also benefit locals by bringing more tourists to the region, said Luo Erwu, head of the tourism bureau of Aba.
Statistics show the Tibetan-inhabited region in Sichuan received 29 million visitors in 2013, raking in 25.9 billion yuan from tourism.