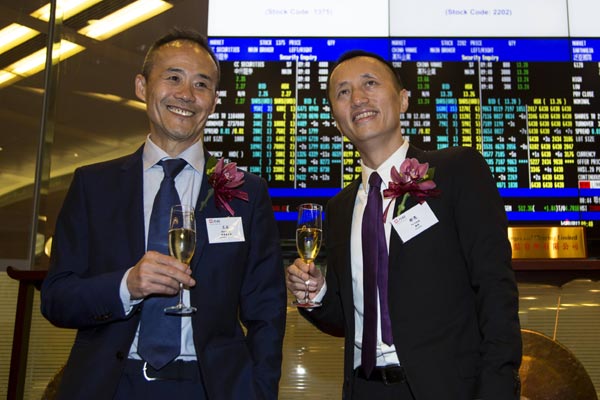 Vanke's Chairman Wang Shi (left) poses with President Yu Liang during the debut of the company at the Hong Kong Stock Exchange on Wednesday. The country's biggest residential property developer aims to expand overseas and tap the offshore capital market. Tyrone Siu / Reuters
China Vanke Co Ltd, the country's largest residential property developer, said on Wednesday it was in talks with global investors, including funds and real estate peers, to sell a strategic stake as the company seeks to expand overseas and tap offshore capital markets.
The stake sale could be accomplished by issuing new shares or via the purchase of shares from the secondary market, Vanke Chairman Wang Shi told reporters at the company's Hong Kong-listing ceremony on Wednesday.
"By moving to Hong Kong, it will help our international brand ... help to attract strategic investors. It will be more healthy for Vanke to leverage on this international platform," Wang said.
Vanke converted its B shares in Shenzhen into H shares and listed in Hong Kong by way of introduction without raising any new capital. The Hong Kong shares closed at HK$13.28 ($1.71), higher than its B shares' last closing price of HK$12.41 on June 3.
Speaking at the ceremony, Wang also said it is necessary for the Chinese mainland property market to correct now and it may take two to four years for such a correction.
"I am worried that if the market doesn't correct, the bubble will burst like we saw in the case of Japan. That would be trouble, so a correction is necessary. It may take two to four years (and) the market will be more healthy," Wang said.
Vanke President Yu Liang recently said the slowdown in China's property market heralded the end of the golden era for Chinese real estate, but said the outlook for the property sector remained healthy.
The comments came at a time when China's average home prices fell for the first time in two years in May and price weakness spread to more major cities, according to official data last week. That added to signs of a cooling in the property market that poses a risk to the broader economy.
The company announced in January last year it would move its foreign-currency B-shares to Hong Kong, becoming the third company to leave the mainland's moribund B-share market in Shenzhen.
The debut price outperformed its A shares listed onshore, which were up 0.3 percent at 8.11 yuan ($1.30), an equivalent to HK$10.15 each.
B-share shareholders, including China Resources Corp, Singapore state investment arm GIC and Asian asset manager Value Partners, were offered a conversion price of HK$12.39.
Vanke's H shares account for 11.9 percent of total outstanding shares.